SERS assesses nanoparticle toxicity in single living cells
Researchers from Yeditepe and Kazan Federal University are using SERS to assess the toxicity of nanoparticles.
Apr 6th, 2017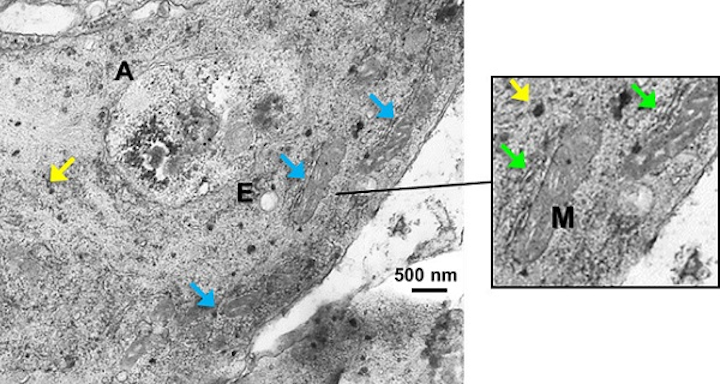 IMAGE: A transmission-electron-microscope image shows A549 cells incubated with AuNPs and single-walled carbon nanotubes at a concentration of 0.25mg/ml; yellow arrows point to AuNPs, blue arrows to mitochondria (M), and green arrows to endoplasmic reticulum. (Image credit: SPIE)
Researchers from Yeditepe University (Istanbul, Turkey) and Kazan Federal University (Kazan, Russia) are using surface-enhanced Raman spectroscopy (SERS) to assess the toxicity of nanoparticles within single living cells, avoiding the conventional, intrusive (altered optical properties and light-absorption capabilities) cytotoxicity assays used to understand nanomaterial toxicity.
RELATED WEBCAST (April 11, 2017): Exploiting SERS with portable instruments for seawater & in situ seafood assessment
RELATED ARTICLE: SERS using fat-coated silver nanoparticles reveals Alzheimer's details
Because an alternate approach that can quickly and easily collect information from many aspects of the cellular conditions would be very beneficial to the field, the researchers developed the SERS label-free technique that can be carried out with simple sample preparation.
To test the efficacy of SERS for the assessment of toxicity, the researchers added three types of nanomaterials--zinc oxide NPs (ZnO NPs), titanium dioxide NPs (TiO2 NPs), and single-walled carbon nanotubes (SWCNTs)--to a lung cancer cell line (A549) and a healthy human skin fibroblast cell line (HSF). They introduced the particles at increasing concentrations: 5, 10, 15, and 20μg/ml for ZnO NPs; 20, 40, 80, and 160μg/ml for TiO2 NPs; and 0.1, 0.25, 0.5, and 1mg/ml for SWCNTs. The cells were seeded on calcium fluoride slides, and after 24 hours, we added gold nanoparticles with diameters of 50nm, together with the nanomaterial to be tested for toxicity, to the incubation medium. The cells were then incubated for a further 24 hours. They then performed measurements on the samples by using a Raman spectrometer equipped with a high-speed encoded stage and an 830 nm laser.
To evaluate the results, they correlated the SERS spectra obtained from these samples with the results from conventional cytotoxicity assays (WST-1 cell proliferation and apoptosis/necrosis assays). For example, among the results, cell-type-dependent viability fluctuations followed the same trend as the fluctuations of the 1000cm−1 phenylalanine peak increase. The higher this peak, the less viable the cells. They also visualized the cellular localization of AuNPs and NMs via transmission electron microscopy (TEM) and enhanced dark field microscopy to determine the AuNP distribution, as a good dispersion is crucial for SERS measurements.
The A549 and HSF cells incubated with increasing concentrations of SWCNTs showed an increase to the phosphatidylinositol and ceramide spectral peaks. It has been shown that endoplasmic reticulum (ER) stress causes ER-mitochondria colocalization, thereby driving the cell into apoptosis by releasing calcium ions. This process is followed by an increase in phosphatidylinositol and ceramide concentrations, which initiates cell-death pathways and certain lipid kinases, thus demonstrating SERS as an effective means for assessing nanotoxicity in single live cells.
SOURCE: SPIE Newsroom; http://spie.org/newsroom/6763-assessing-nanomaterial-toxicity-with-surface-enhanced-raman-scattering?highlight=x2400