UC Davis researchers prove that iPhone plus ball lens equals useful microscope
Davis, CA--An iPhone has been very inexpensively transformed by researchers at the University of California, Davis into a microscope that could be useful for remote diagnoses.
Oct 6th, 2011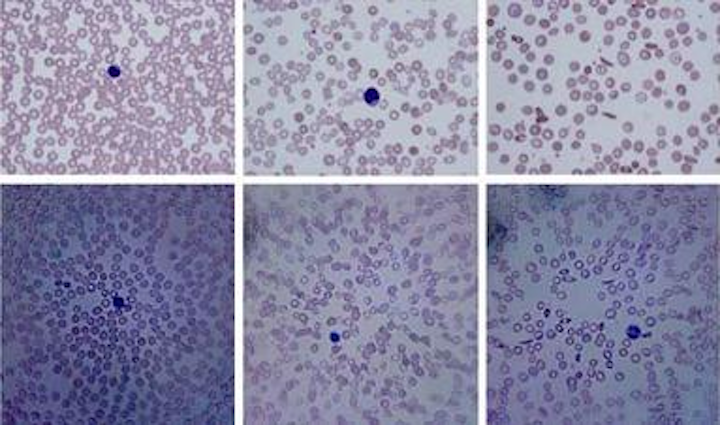 Images from an iPhone microscope are compared to those from a traditional microscope. The upper row shows images of blood samples taken with a traditional microscope. From left to right: normal, iron deficiency anemia, and sickle cell anemia. The bottom row shows the same samples imaged on a smartphone. Credit: Z. J. Smith, K. Chu, A. R. Espenson, M. Rahimzadeh, A. Gryshuk, M. Molinaro, D. M. Dwyre, S. Lane, D. Matthews, S. Wachsmann-Hogiu.
Davis, CA--An iPhone has been very inexpensively transformed by researchers at the University of California, Davis (UC Davis) into a microscope that could be useful for remote diagnoses, as well as for science teaching; in addition, they have created an iPhone spectrometer. Of course, with an iPhone it is simple to transmit the resulting data anywhere in the world for further analysis. The team will present their findings at the Optical Society's (OSA) Annual Meeting, Frontiers in Optics (FiO) 2011, taking place in San Jose, CA Oct. 16-20.

1 mm ball lens
While the group is not the first to build a smartphone microscope, its version is about as inexpensive as one could get. Sebastian Wachsmann-Hogiu, one of the researchers says the group's first iPhone microscope prototype was based on a drop of water whose meniscus formed a lens: unfortunately, the lens evaporated rather quickly. Next up was a 1-mm-diameter ball lens stuck into a hole in a rubber sheet taped onto the phone: this had more staying power.

Due to the iPhone camera's 1.7-micron pixels, the resulting 5X microscope can resolve features to about 1.5 microns in size. Digital image processing lessens the effect of the severe spherical aberration of the ball lens. The software can also stitch small images together to make a bigger image.

Wachsmann-Hogiu's team is working with UC Davis Medical Center to validate the device and determine how to use it in the field. They may also add features, such as larger lenses to diagnose skin diseases and software to count and classify blood cells automatically, aiding in diagnosing blood diseases.

Simple spectrometer
The researchers also created an iPhone spectrometer, with the added elements consisting of a short tube with its ends covered with pieces of tape with slits in them. Though the spectrometer is still in its early stages, the researchers believe it could measure the amount of oxygen in the blood and help diagnose chemical markers of disease.

The presentation, "Microscopy and Spectroscopy on a Cell Phone," by Kaiqin Chu, Zachary J. Smith, Alyssa R. Espenson, Denis Dwyre, Stephen Lane, Dennis Matthews, and Sebastian Wachsmann-Hogiu of the Center for Biophotonics, University of California, Davis, Medical Center, Sacramento, Calif. will take place Wednesday, Oct. 19 at 12 p.m. at the Fairmont San Jose Hotel.

(Note from the editor: I personally own an Android phone -- and I'll bet that my phone could also be made into a microscope. If only I had a ball lens . . . --John Wallace)