MarqMetrix launches fiber-optic contact probe for Raman spectroscopy
MarqMetrix introduced its fiber-coupled TouchRaman immersion contact probe that uses a patented sapphire ball lens interface.
Apr 22nd, 2016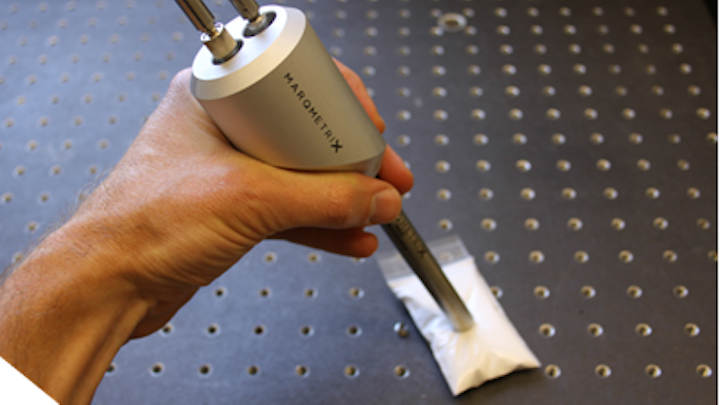 IMAGE: MarqMetrix has launched a fiber-optic Raman spectroscopy contact probe using its ball lens technology. (Image credit: MarqMetrix)
Raman spectroscopy and optical measurement technology company MarqMetrix (Seattle, WA) has introduced its fiber-coupled TouchRaman [trademarked] immersion contact probe; the company says it is the only immersion contact probe to use a patented spherical sapphire ball lens interface. MarqMetrix says the fiber interface, patented optics, exclusively sourced high-grade sapphire lens, and precision manufacturing allow for greatly reduced sampling variation, extreme durability, and ease-of-use in an elegant and simple design.
RELATED ARTICLE: Multi-wavelength excitation in Raman spectroscopy
The Raman probe technology aims to take Raman spectroscopy out of the laboratory or controlled environment because it does not require a scientist to operate, making the technology more accessible across several industries. "MarqMetrix strives to make this technology accessible," said Brian Marquardt, CTO. "We are making Raman simple enough for anyone to use and at a pricepoint not currently available."
The Fiber BallProbe [trademarked] is designed for use with a wide variety of spectrometers and laser sources, connected via standard multimode fiber patch cables.
The short focal length enabled by the spherical optic allows for TouchRaman--where users simply touch the probe to the sample--yielding highly reproducible sampling of liquids, solids, slurries, powders, and heterogeneous mixtures. The simplicity of use allows non-specialists to collect high-quality data and eliminates user-to-user variation.
With the ability to take measurements in process, the Fiber BallProbe is especially useful in continuous-flow processing. Companies can be more efficient during the measurement process and mitigate issues much quicker.
Founded in Seattle in 2012, MarqMetrix was established by Brian Marquardt based on his desire to take his Raman BallProbe, a light-sensing device with a unique spherical sampling lens, outside of a laboratory setting to fully leverage its real-world applications. MarqMetrix operates from a 6100-square-foot facility including a 4200-square-foot laboratory with equipment for optical, chemical, and biological measurement and testing. The company says it works with a number of recognizable global brands representing the oil and gas, energy, chemical, aerospace, food and agricultural, and medical industries, among others.
SOURCE: MarqMetrix; http://www.marqmetrix.com/news