AI-propelled facial recognition still has technology and legal challenges
"If we are going to trade our privacy for increased security, the benefits must outweigh the costs."
Jun 27th, 2019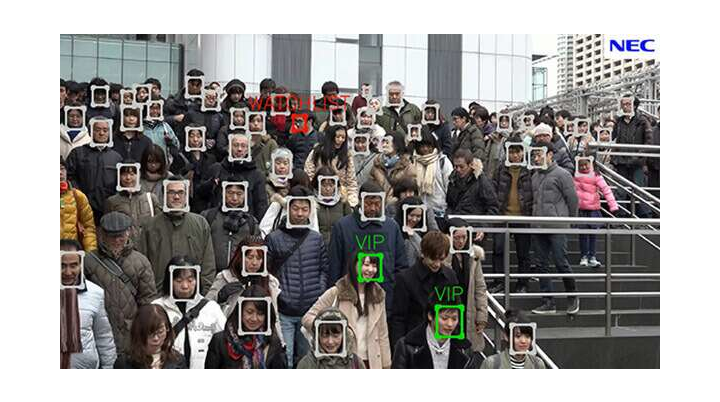 NEC
In a June 24, 2019 article from Sally Ward-Foxton, EET Asia reports "The Current Reality of Facial Recognition," emphasizing that while technology has advanced, it still has a long way to go. The article begins by stating that "The UK is one of the most surveilled countries in the world, with closed-circuit televisions (CCTV) cameras everywhere, from shops to buses to private homes. In the last couple of years, AI techniques, such as neural networks, have propelled large-scale automated facial recognition. Combined with the UK's huge network of existing CCTV cameras, this could hold vast potential for security applications."

But the system has challenges to overcome. "However, there are worrying implications for privacy. Biometric facial data taken from photos or CCTV footage is particularly troubling because it can be taken without the person's consent and without them knowing about it. This data may be collected indiscriminately--whether the subject is matched with a watch list or not--and it allows people to be located and for their movements to be tracked. It's easy to imagine photos of crowds with every face linked to the person's identity, then potentially connected to all kinds of other data about them.
If we are going to trade our privacy for increased security, the benefits must outweigh the costs. Is facial recognition technology actually effective in catching criminals?
Police forces around the UK have performed trials of live facial recognition technology in public places such as shopping malls, sports stadiums, and busy streets. The Metropolitan Police have undertaken 10 trials of the technology so far, using dedicated camera equipment along with NEC's NeoFace algorithm, which measures the structure of each face, including distance between the eyes, nose, mouth, and jaw. According to NEC, this algorithm can tolerate poor quality image such as compressed surveillance video, with the ability to match images with resolutions as low as 24 pixels between the eyes.
Despite winning four consecutive NIST FIVE (U.S. National Institute of Standards and Technology, Face in Video Evaluation) awards for performance, NeoFace didn't do terribly well in the field. In the eight deployments between 2016 and 2018, 96% of the Met's facial recognition matches misidentified innocent members of the public as being on the watch list."
Continue reading the feature here to understand that facial recognition has a long way to go both technologically and in terms of the legal aspects to insure that people are innocent until proven guilty.
SOURCE: EET Asia; https://www.eetasia.com/news/article/The-Current-Reality-of-Facial-Recognition?utm_source=EETI%20Article%20Alert&utm_medium=Email&utm_campaign=2019-06-24