Innoviz and LeddarTech obtain major funding for solid-state lidar commercialization
Lidar continues to gain momentum as autonomous vehicle technology advances into the mainstream.
Sep 8th, 2017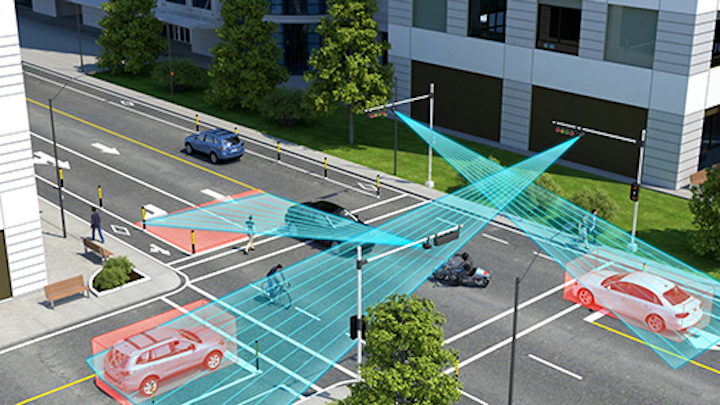 IMAGE: LeddarTech and Innoviz are among the many companies winning major funding for solid-state autonomous vehicle lidar technologies. (Image credit: LeddarTech)
Light detection and ranging (lidar), touted as one of the top photonic innovations of the current decade, continues to gain momentum as autonomous vehicle technology advances into the mainstream. Two companies--Innoviz (Kfar Saba, Israel) and LeddarTech (Quebec City, QC, Canada)--have recently obtained significant funding towards achieving commercialization of their lidar technologies.
Innoviz funding
Innoviz Technologies raised $65 million in Series B funding as its lidar solution moves into mass production. Strategic partners and global leaders in automated driving solutions Delphi Automotive PLC and Magna International participated in the round, along with additional new investors including 360 Capital Partners, Glory Ventures, Naver and others. All Series A investors, including Zohar Zisapel, Vertex Venture Capital, Magma Venture Partners, Amiti Ventures and Delek Motors, participated in this round. A second closing of this round is expected to be announced soon, introducing additional strategic partners.
"As the autonomous driving market matures, Innoviz has clearly established itself among industry leaders not only as the best-in-class LiDAR solution but also as an integral part of the overall autonomous vehicle stack," said Omer Keilaf, co-founder and CEO of Innoviz. "Today's financing from strategic partners such as Magna and Delphi demonstrates their support for Innoviz as the industry's leading option for high-performing LiDAR and is further proof that we have moved into the next phase of our growth … With their joint efforts, we will be able to scale more quickly and put autonomous driving technology on the road much faster."
Innoviz technology leverages proprietary solid-state MEMS and detector designs to give autonomous vehicles sensing capabilities in bright direct sunlight, varying weather conditions, and multi-lidar environments. InnovizPro will be available in Q1 of 2018 and samples of InnovizOne, an automotive grade lidar device for level 3 - 5 autonomous driving will be available in 2019.
With more than 75 employees since its inception in January 2016, Innoviz uses an algorithmic layer for object detection and classification that they say is necessary to move the industry towards mass commercialization. This round of financing brings Innoviz's total funding to $74 million.
LeddarTech funding
LeddarTech announced the completion of a combined investment of $101 million dollars led by Osram and including Delphi, Magneti Marelli, and Integrated Device Technology as strategic investors, as well as Fonds de solidarité FTQ. Representing the Company's largest capital raise to date, this round of funding will allow LeddarTech to enhance its ASIC development efforts, expand its R&D team, and accelerate ongoing lidar development programs with select tier-1 automotive customers for rapid market deployment.
LeddarTech is commercializing automotive-grade solid-state lidar that meets the industry's stringent requirements in terms of cost, performance, and reliability. The patented Leddar technology stems from more than a decade of R&D and has been optimized through multiple deployments in different applications. Packaged into LeddarCore integrated circuits (ICs) and standard microcontrollers, Leddar's digital signal processing and powerful software algorithms allow LeddarTech to achieve the automotive industry's targeted performance levels using more affordable, readily available components, as well as simple, robust sensor designs with no moving parts.
"Delphi aims to be at the forefront of autonomous driving developments and LiDAR is a key component thereof," said Glen De Vos, Delphi Automotive senior VP and CTO. "We are delighted to partner with LeddarTech to leverage its innovative and proprietary signal processing technology to rapidly commercialize low-cost, high-performing LiDARs."
SOURCES: Innoviz Technologies; http://www.prnewswire.com/news-releases/innoviz-technologies-raises-65m-as-its-solid-state-lidar-moves-to-mass-production-300515384.html and LeddarTech; https://leddartech.com/leddartech-annouces-usd-101-million-series-c-financing/