Ultraviolet Weathering Chamber from EYE Lighting available for material aging tests
Mentor, OH--EYE Lighting installed its Super Acceleration Ultraviolet (UV) Weathering Chamber in an "independent" test lab in Ohio so that customers can perform material aging tests.
Jun 28th, 2012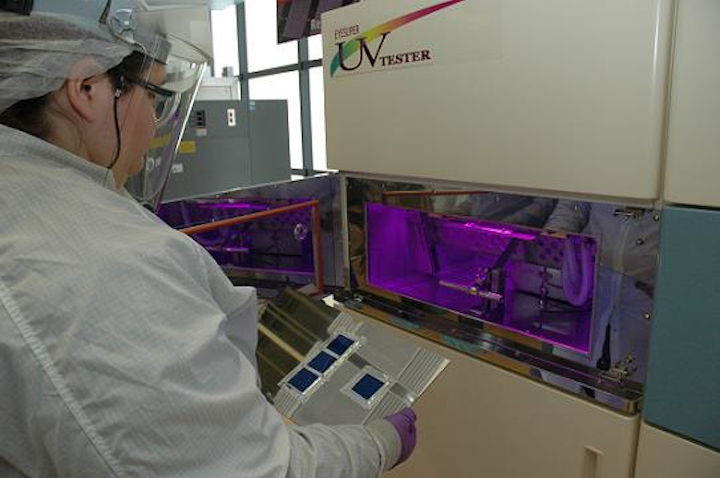 Mentor, OH--Lamps, luminaires, and lighting company EYE Lighting International/Iwasaki Electric has installed its Super Acceleration Ultraviolet (UV) Weathering Chamber at the Richard Desich SMART Commercialization Center for Microsystems laboratory (Elyria, OH)--the first time such a system has been installed in an "independent" test lab that is open for customers to test sample products. The EYE/Iwasaki SUV-W151 Weathering Chamber provides the paint, materials, photovoltaic, and other industries with scientific data--in just 2-3 weeks--on how products stand up after 30 years of UV exposure to the damaging effects of the sun's UV rays.
Located on the campus of Lorain County Community College, the SMART Center serves as an open resource for university and industry partners to access state-of-the-market equipment and commercialization for microsystems support in sensor packaging, testing/reliability, and advanced life simulation. "Manufacturers in many industries are designing products to last for decades in the field, and need to dramatically shorten the time it takes to simulate long life UV exposure," says Gary Brown, EYE Lighting's manager of Applied Optics. "EYE and Iwasaki's unique technology compresses years of detrimental UV radiation into weeks of testing, allowing customers to quickly verify designs and shorten product development time." EYE Lighting says that its SUV-W151 system can generate 30-times natural sunlight UVA and UVB energy, the highest UV acceleration rate in the industry.
EYE Lighting/Iwasaki has installed more than 500 UV Weathering Chambers worldwide, but the SMART Center is the only independent test lab in North America with the device. Brown concluded, "This open-access test facility fills a much needed gap in the ability of American companies to compete in global markets. Growing industries can now get to market quickly."

EYE Lighting International, a subsidiary of Iwasaki Electric Co. Ltd. (Tokyo, Japan), is a lighting technology company focused on designing and manufacturing lighting products and light-applied system solutions. From new LED commercial lighting products to UV material testing chambers, EYE Lighting says their goal is to use light technology to create a more comfortable and sustainable environment, and that they are the only lighting company in the world with an ISO 17025 accredited lab under the same roof as manufacturing.
SOURCE: EYE Lighting International; www.eyelighting.com
IMAGE: An Ultraviolet Weathering Chamber from EYE Lighting has been installedat the Richard Desich SMART Commercialization Center for Microsystems laboratory in Ohio so that customers who choose to use the facility for material aging studies can compress 30 years of exposure to the damaging effects of the sun's UV rays into a 3 week time period. (Courtesy EYE Lighting)