StellarNet highlights importance of spectroscopy as Earth Day approaches
As Earth Day approaches, StellarNet points out the many earth-friendly applications of spectroscopy.

Apr 20th, 2018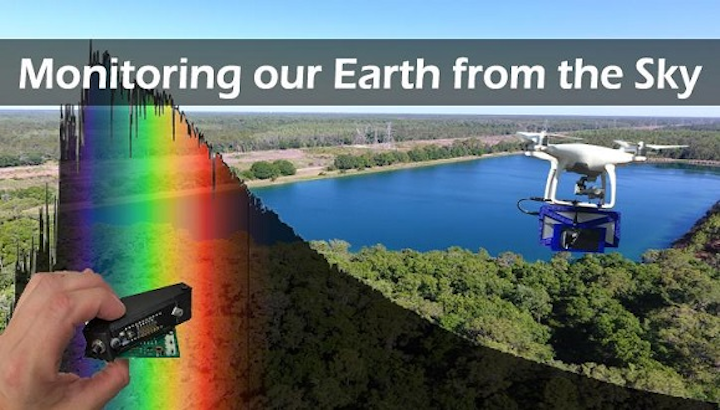 IMAGE: Among many other applications that benefit the goals of Earth Day including plastic recycling, spectrometers can monitor important environmental parameters both on the ground and from small unmanned aerial vehicles (UAVs) in the sky. (Image credit: StellarNet)
With Earth Day just around the corner, on Sunday April 22, the StellarNet (Tampa, FL) team decided to focus its monthly newsletter on environmental protection and research applications that showcase spectroscopy and are designed to improve and study our environment. Earth Day was first introduced in the 1970s and is now coordinated globally and celebrated in more than 193 countries around the world!
For Earth Day 2018, the tag line is "End Plastic Pollution." From poisoning marine life to disrupting human hormones and littering our ecosystems, plastic pollution is now threatening the survival of our planet. It's time that everyone takes personal responsibility for the plastic pollution by choosing to reject, reduce, reuse, and recycle plastics. Here are some examples that highlight how spectroscopy helps support the goals of Earth Day:
StellarCASE-NIR for Plastic Sorting, Composition Analysis, and Recycling
This portable, ruggedized case system allows material identification and composition analysis with NIR spectroscopy. The SpectraWiz-ID application easily matches various plastic trash samples when placed on the reflectance fixture. PET, HDPE, Polypropylene, PVC, and several other plastic samples are identified in the systems DEMO library. Learn more here.
Monitoring our Earth from the Sky
StellarNet compact spectrometers can enable a small unmanned aerial vehicle (UAV) to collect hyperspectral measurements in the visible and near-infrared that are equal in quality to ground-based spectrometers. Designed with a low payload, minimal power consumption, and vibration tolerant optics our spectrometers can be easily integrated with off-the-shelf components to create systems for reflectance measurements of ground cover and vegetation. The StellarNet team has been surveying forest and grassland near its headquarters in Tampa, FL.
To determine the density of vegetation on a patch of land, researchers must observe the distinct wavelengths of visible and near-IR sunlight reflected by the plants. When sunlight strikes the earth, certain wavelengths of the spectrum are absorbed, while other wavelengths are reflected. The pigment in plant leaves, such as chlorophyll, strongly absorbs visible light (from 400-700nm) for use in photosynthesis. The cell structure of the leaves strongly reflects near-infrared light (700-1000nm). The more leaves a plant has, the more these wavelengths of light are affected.
In general, if there is much more reflected radiation in near-infrared wavelengths than in visible wavelengths, then the vegetation in that location is likely to be dense and may contain some type of forest. The graph to the right shows the spatial intensity map of 550 and 850nm where the x-axis is each consecutive location of measurement Y-axis is % reflected 550 and 850nm light respectively. There are many other potential applications for UAV earth surveys including snow albedo monitoring, agricultural and forest applications, andinland fresh water surveys.
Oil spill monitoring
Researchers from the Department of Marine Chemistry and Geochemistry at Woods Hole Oceanographic institute recently reported Partial Photochemical Oxidation was a dominant fate of Deepwater Horizon surface oil in a 2018 Environmental Science & Technology Publication. Learn more here.
Numerous other applications are detailed at https://www.stellarnet.us/applications/.
SOURCE: StellarNet; https://www.stellarnet.us/press-release/