B&W Tek granted three spectroscopy patents for handheld NanoLIBS analyzer
B&W Tek was awarded three patents for its handheld laser-induced breakdown spectroscopy (LIBS) instrument.
Nov 14th, 2017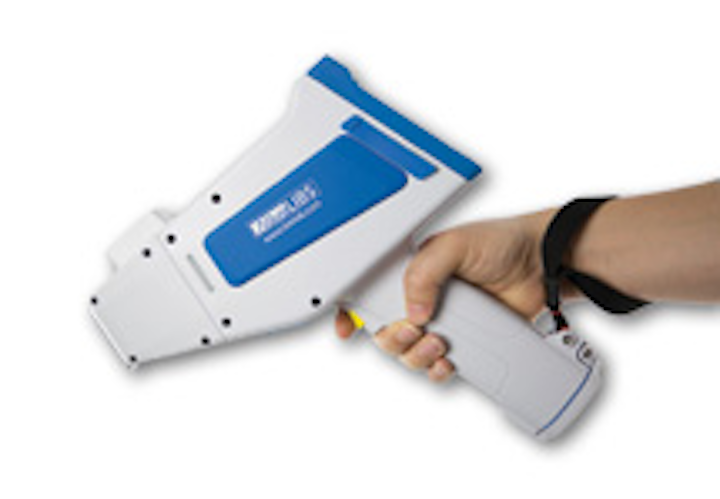 IMAGE: Three patents were awarded for technology advances in the NanoLIBS handheld laser-induced breakdown spectroscopy instrument. (Image credit: B&W Tek)
B&W Tek (Newark, DE) was awarded three patents for its handheld laser-induced breakdown spectroscopy (LIBS) product. Patent 9,366,634 describes a substrate-enhanced LIBS method for liquid analysis, which increases the LIBS signal of the liquid sample by more than two orders of magnitude. Patent 9,766,182 is the invention of a compact LIBS spectrometer design that offers large spectral coverage and high spectral resolution. Patent 9,797,776 introduces a LIBS spectrometer based on a high repetition rate pulsed laser, making it possible to obtain an extremely low noise LIBS spectrum with enhanced dynamic range of > 10,000. B&W Teks says these inventions continue its innovation in providing advanced mobile spectroscopy solutions.
RELATED ARTICLE: Standoff LIBS for explosives detection--challenges and status
NanoLIBS is a handheld LIBS instrument using elemental analysis for identification and investigation of raw materials including ionic salts such as sodium chloride (NaCl) and potassium chloride (KCl) within a regulated environment. Compact and agile, the NanoLIBS can be used by non-technical users to rapidly identify samples in the lab, warehouse, loading dock or field, helping to eliminate quarantine areas and expedite materials through the manufacturing lifecycle.
The B&W Tek NanoLIBS instrument is fully compliant with all governing regulations, including 21 CFR Part 11 and Part 1040.10, and can play an integral role in cGMP-compliant facilities. B&W Tek offers a wide variety of services, including assistance with method and/or new library development as well as support with IQ/OQ/PQ implementation.
SOURCE: B&W Tek; http://bwtek.com/products/nanolibs/