Stretchable polymer skin wired with Bragg gratings senses strain
Leuven, Belgium--Imec and its collaborators have created a stretchable polymer optical-sensing skin that can measure mechanical strain and pressure.
Oct 24th, 2011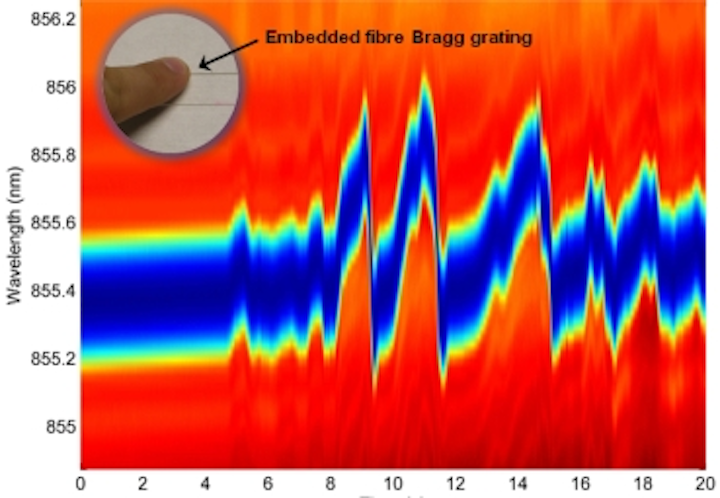 Dynamic measurement of a Bragg grating in transmission using a low-cost and miniaturized spectrometer embedded in a flexible polymer pad. The applied pressure corresponds to typical loads relevant for biomedical applications. Each color value represents intensity versus a specific wavelength at a certain time. A new spectral plot is available every millisecond.
Leuven, Belgium--Imec and its collaborators have demoed a stretchable polymer optical-sensing skin, which can measure mechanical strain and pressure. The device is a result of a project, Photonic Skins For Optical Sensing (PHOSFOS), supported by the European Commission under the 7th framework (FP7) and begun in 2008.

The polymer pad contains integrated optical Bragg sensors, as well as the optical sources and detectors needed to read out the sensors. These pads could, for example, continuously monitor the integrity and the behavior of buildings, dams, bridges, roads, or tunnels. Other uses are monitoring aircraft wings, helicopter blades, or wind-turbine blades. They could be used in the biomedical arena as well, for long-term monitoring of respiration and cardiac activity and the detection of pressure points under bedridden patients.

The sensing elements consist of fiber Bragg gratings fabricated in microstructured optical fibers. The researchers were able to make pressure sensors that are 20 times more sensitive than comparable state-of-the-art sensors. In addition, the sensors are temperature insensitive. The researchers exploited the unique advantages of polymer fibers over glass fibers--their ability to measure much higher strains, their safer use in medical applications, and their ability to be read out with lower-cost interrogation systems.

The first pre-product prototype measures downhole pressure during oil or gas exploration. The second is a medical sensor to measure esophageal pressure and to diagnose gastrointestinal disorders. The third is a portable system capable of monitoring respiratory activity.

For more info, see: http://www.phosfos.eu/