Laser safety eyewear offers essential protection
Because laser use has become commonplace in our society--for example, in CD players, supermarket scanners, and dermatological and ophthamological equipment--users may become more casual around lasers. However, as Mark Twain remarked, "Familiarity breeds contempt." With too much familiarity, laser users may be afflicted with a lack of respect for the very powerful tools they are using. Safety is then compromised and injuries result.
Mar 1st, 1997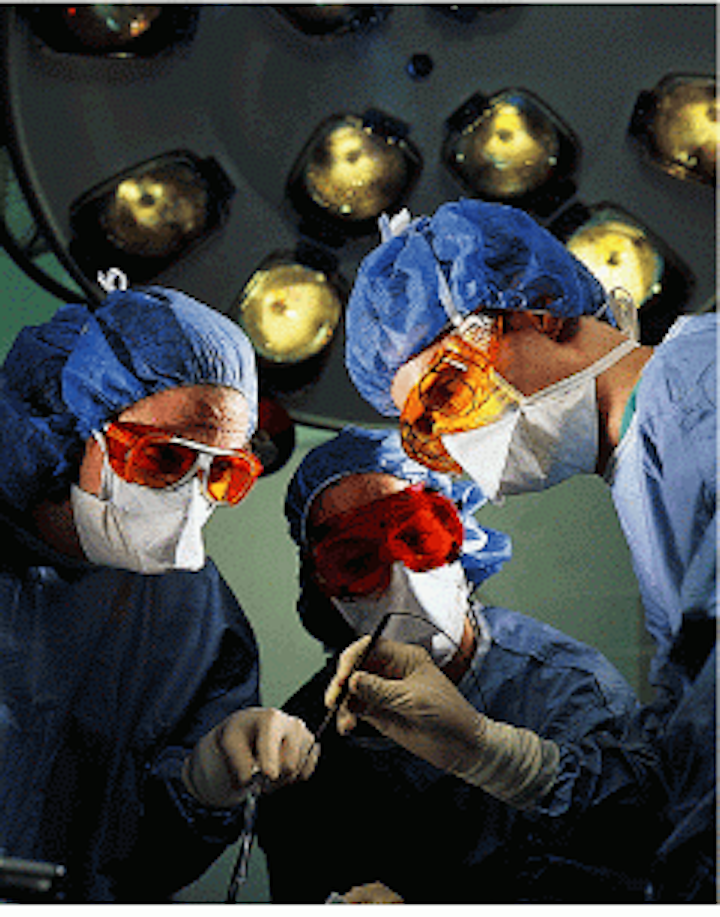 Laser safety eyewear offers essential protection
Factors ranging from laser wavelength to fashionability affect selection and use of eye protection.
Diana Zankowsky, Contributing Editor
Because laser use has become commonplace in our society--for example, in CD players, supermarket scanners, and dermatological and ophthamological equipment--users may become more casual around lasers. However, as Mark Twain remarked, "Familiarity breeds contempt." With too much familiarity, laser users may be afflicted with a lack of respect for the very powerful tools they are using. Safety is then compromised and injuries result.
The goal of safety-equipment manufacturers is to make their products so comfortable and ergonomically appropriate that operators will not resist donning the protective gear. The goal for managers of laboratory, research, or surgical facilities is twofold: they must ensure that potential exposure is minimized, and they must make the protective equipment readily available (see Fig. 1). This two-pronged approach will minimize skin and eye damage that can result from exposure to laser light, especially from a reflected beam.
Laser safety eyewear is one of the most common pieces of protective equipment used. This Product Focus discusses the agencies and regulations controlling eye protection. The article surveys the various types of eyewear that are available on the market and covers selection criteria and the role of manufacturers in assisting in that selection. In addition, we have received many comments from our panel of users that offer some insight into these products and their use.
The table of suppliers that follows on p. 132 is a partial listing of manufacturers of laser safety eyewear and their representatives. For a more complete listing, see the 1997 Laser Focus World Buyers Guide, p. 286.
Hazards
The most significant hazard in a laser environment is exposure of skin or eyes to a laser beam. Most work in the laser safety arena is to first assess the potential for exposure and then prevent that exposure. Quantification of the potential for exposure is approached from two directions; the laser source is classified based upon its output, and the human exposure is classified based upon the maximum exposure the eye or skin can tolerate without damage.
Laser classification in the USA is governed on the federal level by rules from the Center for Devices and Radiological Health (CDRH, see Laser Focus World, March 1996, p. 159) Laser manufacturers are obligated to build systems with the appropriate interlocks, shutters, and housings. If the laser is for a medical application, then the Food and Drug Administration also becomes involved. Both agencies are concerned with the operating characteristics of the laser, including wavelength and output-power levels. These two features impact most directly on the level of protection that the user will require.
Standards created by the American National Standards Institute (ANSI, New York, NY) and described in Z136 Series of Laser Safety Standards rate maximum permissible exposure (MPE) of human skin and eyes to a laser beam. [See the Rockwell Laser Industries World Wide Web site, http://www.rli.com, for an interesting discussion of the general and legal acceptance of these standards--Ed.] These standards are maintained and published for purchase by the Laser Institute of America (Orlando, FL). The MPEs are established as a function of the output powers and wavelengths of the laser. Both the ANSI standards and the CDRH laser classifications influence the choice of laser safety eyewear.
The first level of protection consists of the controls established by these standards, which manufacturers incorporate in the lasers themselves. The second level includes the administrative controls, created by the facility management, that guide behavior with and around the laser. These controls are communicated to users by published regulations and through training classes. Successful creation of a safe environment is even more a function of administrative attitude toward safety and can be visible in the correct safety signage or availability of the rule book.
A third level of protection is personal "armor." Laser safety eyewear is the main component of this category. Shutters, screens, and beam blocks also may be necessary.
Gauging eye protection
The optical density (OD) of a given filter material is a measure of the amount of light that can pass through the filter (see Laser Focus World, May 1995, p. 223.) Because it is a logarithmic measure, using an OD one unit higher than necessary can block so much light that the goggles become a vision hazard themselves. If the user needs more vision than the filter material provides to see an alignment beam or other instrumentation in the laboratory, for example, then he or she may be tempted to peek around the glasses, circumventing their usefulness.
Manufacturers and their representatives can readily calculate the appropriate OD for the purchaser, based upon the MPE and user needs. If a facility has an ongoing need for these calculations, computer software is available for the laser-safety officer or other safety personnel to use. No matter how high the OD, there is never complete protection. Every manufacturer cautions the user not to look directly into the beam of a laser.
Everyone who works near or with a Class III or Class IV laser (as defined by the CDRH) must wear eye protection appropriate to the wavelengths that the laser emits. This rule applies whether the laser is in a research facility, an industrial setting, or a surgical or outpatient medical facility. If the laser emits multiple wavelengths, then the glasses or goggles must protect against each of the wavelengths.
A purchaser of laser safety eyewear must make several decisions when selecting protection. One choice is in materials: polycarbonate (a plastic) or filter glass. This selection is very similar to the one faced by purchasers of regular eyeglasses--durability and scratch resistance versus light weight and greater comfort. Also, some of the polycarbonate designs are more stylish, a factor that may be more important in, say, the operating room than in some other heavy industrial-laser environments.
If the user wears prescription glasses, then it is possible to get laser safety glasses with the prescription ground into the glasses. Another alternative is to select glasses or goggles that fit over the regular prescription glasses.
There is also a choice between spectacles and goggles (see Fig. 2). With perhaps a higher degree of protection, goggles seal to the face, preventing light-leakage. However, if the user must wear the protective glasses for long periods of time, then the comfort of spectacles may outweigh the additional protection. Several users and manufacturers stressed that the eyewear offers no protection at all if it has been pushed u¥onto the forehead or on to¥of the head or laid down on the bench, even for "just for a moment."
Other factors may also come into the decision process. The eyewear may need to do double duty as general safety equipment because the facility may have requirements for shatter-resistance or splash protection. Side shields may be dictated for protection against stray reflections. If the glasses or goggles are provided for common use in an operating room, they must be able to withstand repeated cleanings or sterilizing. Also, common glasses or goggles need to be adjustable so that they fit all potential users. Ventilation behind the protection is a consideration for comfort during lengthy wear periods.
The final choice is the option of fashionability. Several facilities have discovered that spectacles are more likely to be used if the eyewear conforms to the latest fashion trends. Wraparound designs and brand names increase popularity and usage.
Industry and user comments
Manufacturers tend to introduce new protective eyewear when either new lasers or output lines are introduced or as optical-fashion trends change. The increase in the uses of lasers for dermatological applications, especially CO2 and ruby, has resulted in both new products and an increase in sales of eyewear for those wavelengths. The medical field appears to be the fastest-growing application area, stimulating growth across the entire spectrum from UV, for excimer-laser eye sculpting, to infrared, for CO2 laser tattoo removal.
There has been some consolidation among manufacturers, as competition increases. Some companies distinguish themselves by the level of service that they provide to the customer, including quick response to quotations and questions, off-the-shelf deliveries of the more common products, and sales support for product selection. Other companies have in-house manufacturing facilities for prescription laser safety lenses, including bifocals. Others have complementary product lines, including other classes of safety equipment.
Users who are in charge of laser facilities stressed the importance of safety education and of the availability of comfortable laser-safe eyewear, especially for visitors and occasional laser users. Many facilities are set u¥with common protection that anyone going into a laboratory can access. People who spend most of their time working with a laser will frequently claim their own set of safety eyewear, especially if they require multiple sets to protect against several wavelengths. Almost all of our user respondents said that it is important to take time to discuss specific applications and uses with vendors so that the laser safety eyewear is best matched to one`s needs. o
A representative listing of manufacturers of safety equipment begins on p. 132.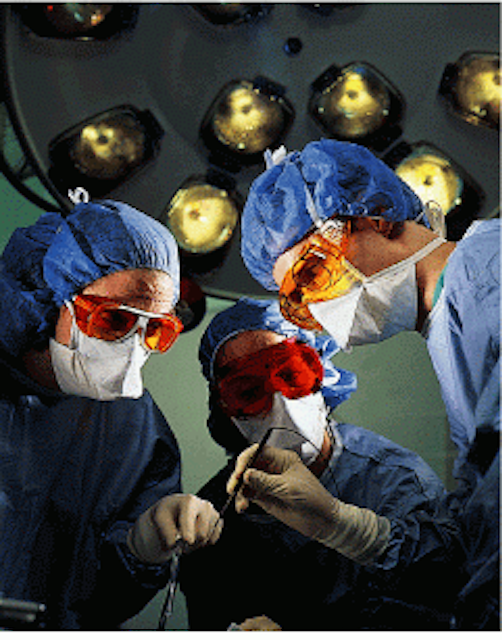 Click here to enlarge image
FIGURE 1. Users of lasers in surgical procedures require eye protection that is comfortable when worn for long periods and that offers complete protection from direct and reflected beams. Material durability is another concern, if the eyewear must undergo a sterilization regimen.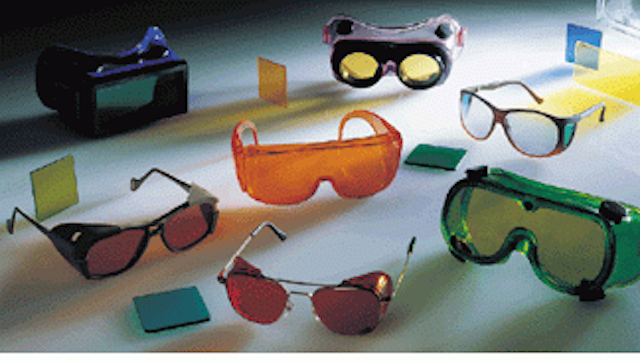 Click here to enlarge image
FIGURE 2. A spectrum of eye-protection styles and materials allows customizing laser safety to not only fit the application but the individual user as well.