World's smallest linear ball bearing suits micro-photonic positioning
MPS Micro Precision Systems has produced the smallest linear ball bearing in the world.
Sep 19th, 2017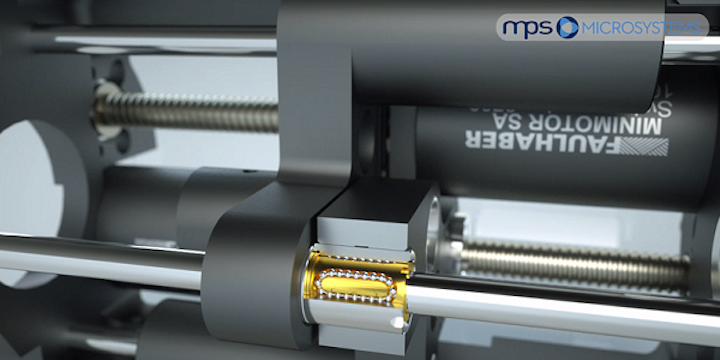 IMAGE: The smallest linear ball bearing (shown within a positioning system) in the world can be applied to a variety of micro-photonic positioning applications. (Image credit: MPS Micro Precision Systems)
For micro-photonic positioning applications in the medical, research, and defense markets, MPS Micro Precision Systems (Biel/Bienne, Switzerland) has extended its product range of ball screws, linear ball bearings, and electromechanical microsystems with the smallest linear ball bearing in the world.
RESOURCE: Search LFW for more ball-bearing positioners
Starting from an extruded steel wire, several days of machining result in sub-millimeter-sized, mirror-finished, nearly perfect stainless steel spheres with a minimum hardness of 58 HRC and sub-micron finish tolerances. These "Grade 3" balls--the highest quality defined by the ISO 3290/DIN 5401 standard--and high-precision execution of the cage and housing reduce friction and eliminate the stick-slip effect.
With an inner diameter of 1.5 mm and outer diameter of 3.0 mm, the linear ball bearing is fitted with four rows of 20 balls each (0.3 mm in diameter) for a total length of 3.9 mm. With a load capacity in the range of 5-8 N, the miniature ball bearing is ideal for linear applications where light loads must be positioned in a highly accurate and repeatable manner.
The company also produces high-precision miniature lens actuators with a 6 mm micromotor, pre-loaded screw-nut system, and linear guideway for eye tomography and cataract operations that require precise focus of a laser beam; for example, finding the zero point with a precision of 1 micron between each measurement.
SOURCE: MPS Micro Precision Systems; http://www.mps-microsystems.com/en/engineered-solutions/optics-photonics.html