Metamaterial Technologies and Artemis partner on defense-related optical coatings
The companies are pairing up to create new, hybrid metamaterial filtering solutions to combat laser threats.
Mar 8th, 2018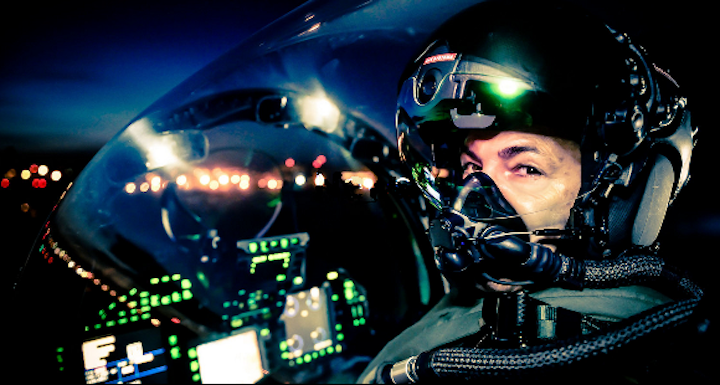 IMAGE:Artemis Optical manufactures helmet-mounted and heads-up displays, shown here, as well as optical coatings and filters that facilitate these display platforms. (Image credit: Artemis Optical)
Designer and manufacturer of optical thin-film coatings and heads-up displays Artemis Optical (Plympton, England) signed a three-year business development and technology partnership with Metamaterial Technologies (MTI; Dartmouth, Nova Scotia, Canada), a smart materials and photonics company, to develop a hybrid coating for the defense industry.
RELATED ARTICLE: Metamaterial Technologies signs MoU with Airbus to defend against laser cockpit strikes
The companies are pairing up to harness both of their innovative thin-film coating technology to create a brand new, hybrid metamaterial filtering solution to combat laser threats for the users of periscopes and sighting systems in armored vehicles.
It is expected that the combination of Artemis' expertise in thin-film deposition and MTI's patented metamaterial technology will lead the companies to be able to offer variations and enhancement to laser protection filters that have not been possible before.
As previously reported, Artemis is the only independent, non-US coating company to be qualified to supply laser protection filters to the US military, and has recently celebrated 20 years of that approval. The company has supplied these products to governments globally and, amongst others, they can be found on all frontline UK MOD vehicles as well as those in France and Norway.
Jamie Pindard, sales director of Artemis Optical, said, "We're very excited about this high-tech collaboration. Both companies have already proved their technology in their respective fields. The potential of these new hybrid solutions could prove to be a step change in the way that the industry considers the possibilities of laser protection."
George Palikaras, founder and CEO of MTI said, "We look forward to combine MTI's strength in flexible, large scale filters with Artemis Optical, who is an established leading supplier in optical thin film coatings, to develop the next generation of laser filters. The combination of our technologies will offer unique capabilities for the defence industry globally."
Artemis' 22,000 square foot purpose-built facilities include a 16,000 square foot environmentally controlled production laboratory and a range of modern coating chambers. Artemis has the capability to manufacture neutral, color-selective, and amplitude-graded beam combiners.
SOURCE: Artemis Optical; https://www.artemis-optical.co.uk/news/2018/1/23/artemis-optical-and-metamaterial-technologies-inc-partner-to-develop-hybrid-filtering-technology