L3 invests in Peak Nano Optics, maker of nanolayer GRIN lens technology
L3 Technologies has made a significant investment in Peak Nano Optics which makes novel nanolayered graded-refractive-index lens.
Mar 6th, 2018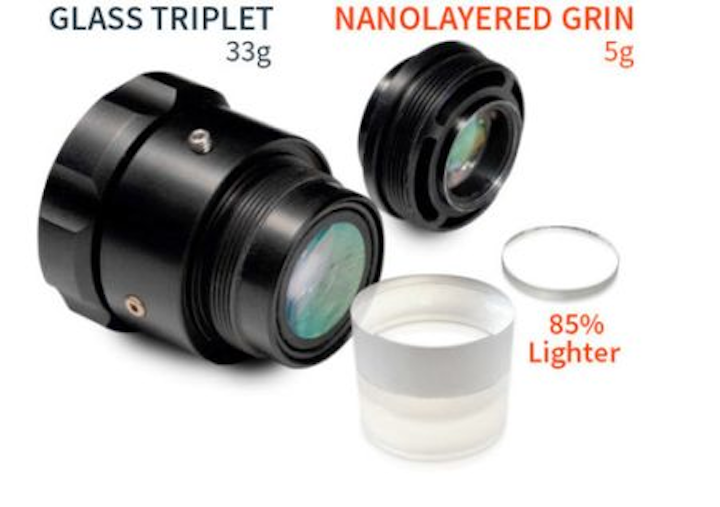 Image courtesy Peak Nano Optics.
L3 Technologies (New York City; NYSE:LLL) has made a significant investment in Peak Nano Optics (Coppell, TX), which makes novel nanolayered graded-refractive-index (GRIN) lens. The minority investment is intended to accelerate advances for military and commercial optics applications, with the potential for new product launches as early as 2019. Peak Nano Optics says this latest round of investments will enable it to significantly expand its manufacturing efforts.
"We're thrilled to have L3 as both an equity and development partner," said Jim Welsh, CEO of Peak Nano. "L3 operates as an industry leader in many of the markets where our lens technology makes a tremendous impact on system-level performance, which creates new opportunities for our technology. This transaction allows us to dramatically accelerate our efforts in much larger adjacent markets, such as virtual reality, where we expect to shape the next generation of optical platform solutions."
Jeff Miller, L3's Senior Vice President and President of its Sensor Systems business segment, said, "In Peak Nano Optics, we quickly saw the potential for GRIN lens technology, not only in our current markets, but also in its ability to be transformative in a broad range of emerging systems, such as virtual and augmented realities, and the commercial space."
Peak Nano has spent the last year designing an advanced automated line with integrated robotics that will come on line this summer, greatly expanding production scalability. This round of funding will also enable Peak Nano to advance its offerings in virtual and augmented realities as well as make new advancements in biomedical technology.
Source: www.peaknano.com/optics