III-V microlaser in silicon photonic circuits can be made with industrial fabrication techniques
Whispering-gallery laser cavity is only a couple of microns in diameter.
Dec 6th, 2016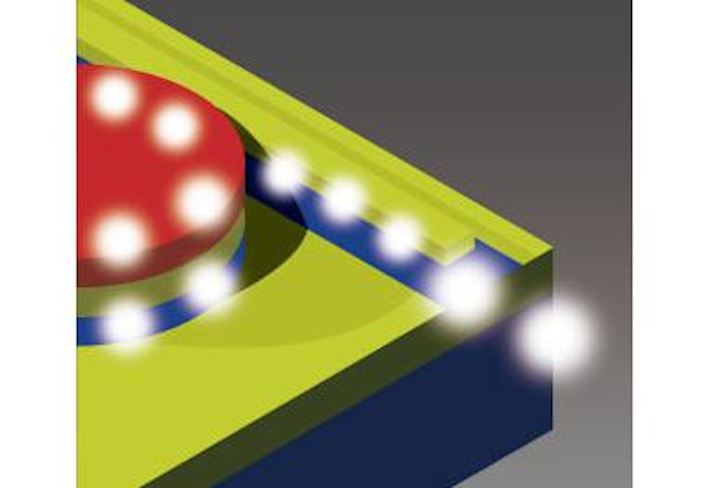 A microlaser made of a thin cylinder of InGaAsP (red) on silicon (blue) is only 2 μm in diameter (the yellow is an insulating but light-transparent laser of SiO2). The device produces near-IR photons, which in this artist's concept look like little instances of ball lightning. (Image: A*STAR Data Storage Institute)

Because silicon itself does not easily lase, using III-V semiconductor materials that can lase, such as indium gallium arsenide phosphide (InGaAsP) and others, is a time-honored way to add lasers to silicon photonic circuits. This is often done by bonding a prefabricated III-V laser-diode structure to a silicon photonic circuit.

Now, Doris Keh-Ting Ng and colleagues from the A*STAR Data Storage Institute (Singapore) have produced very compact version of these hybrid devices that could lead to micrometer-scale lasers for use in small and rugged barcode scanners, for example.

The team started with a silicon substrate onto which they deposited a thin layer of silicon oxide (SiO2). The 210-nm-thick optically active InGaAsP film was fabricated separately and then bonded on top of the SiO2. The team then etched through some of the material to create cylinders either 2 or 3 μm in diameter. The 3 μm devices emitted laser light with a wavelength of 1519 nm, very close to that used in commercial optical communications systems.

The laser cavity was based on a whispering-gallery geometry; the 2-μm-diameter cavity had a mode volume of only 0.07 Λ3 and a Q (quality) factor of 1.3×104.

Source: http://www.research.a-star.edu.sg/research/7611/mix-and-match-lasers

REFERENCE:

1. Lee, C.-W. et al., Optics Letters 41, 3149–3152 (2016); https://doi.org/10.1364/OL.41.003149.