Spectrum and NexOptic launch Blade Optics 'flat lens' technology
NexOptic Technology and Spectrum Optix have engaged Uncommon Innovation to market Blade Optics technology.
Jun 29th, 2016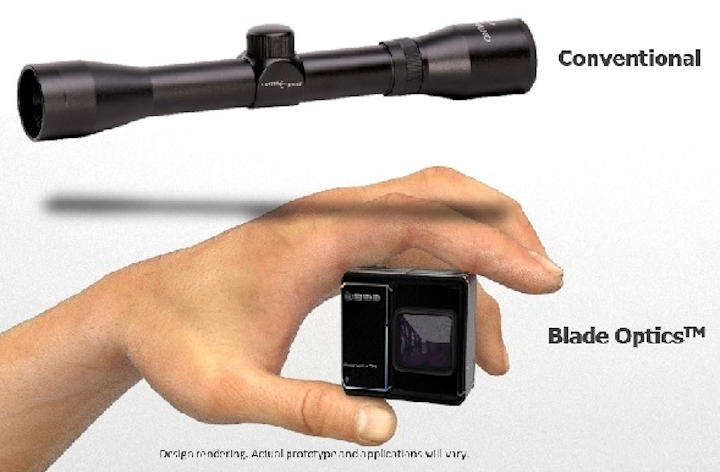 IMAGE: Blade Optics 'flat lens' technology could significantly improve over conventional optics. (Image credit: Spectrum Optix and NexOptic Technology)
NexOptic Technology (Vancouver, BC, Canada) and Spectrum Optix (Calgary, AB, Canada) have engaged Uncommon Innovation (also in Calgary) to assist in development of the go-to-market strategy for Spectrum's patent-pending Blade Optics [trademarked] technology that contains flat lenses.
The companies say that Blade Optics has the potential to help significantly reduce the lens stack depth to aperture ratio for several imaging verticals. This could allow for greatly increased aperture sizes without increasing the depth of the lens stack in many applications. Fewer limitations on aperture size means that image quality could be much improved. And decreasing the depth of the lens stack would create the possibility of more compact and practical imaging devices.
RELATED ARTICLE: Simple layered flat metamaterial lens focuses in the UV
Spectrum is currently developing a proof of concept telescope prototype that will use its Blade Optics technology, other optical elements, and electronic components. The prototype is intended to demonstrate the marketable features of Blade Optics technology and its potential to serve as a flat optics platform to be used in various optical applications.
To prepare for the completion of their first of its kind proof-of-concept prototype, NexOptic and Spectrum have formally engaged Uncommon Innovation to conduct strategy development and a market assessment for the commercialization of Spectrum's Blade Optics lens technology on a global level. Uncommon's primary focus will be on potential opportunities for Blade Optics in the sport optics sector of the imaging market, which includes consumer products such as telescopes, spotting scopes, monoculars, binoculars, and more.
The marketing strategy aims to identify the best initial sector and use case for Blade Optics in order to focus research and development, marketing, and sales resources; to validate the fit of the technology in the sector found to be most attractive through research via discussions with relevant industry experts and prospective customers; and to develop a suitable marketing strategy to gain traction in the top identified sector.
Uncommon Innovation specializes in helping companies evaluate new technology product opportunities and successfully bring them to market. Since 2007, Uncommon has worked with over 100 companies on this key stage in company development and works in the analysis, evaluation, design, development and launch of new technology products and product concepts.
NexOptic is a publicly traded company, which has an option to acquire, in the aggregate, 100% of Spectrum Optix, a private corporation. The two companies are, in essence, working as a single corporation at this time, with their respective CEOs sitting on each other's boards of directors.
Spectrum Optix is developing technologies relating to imagery and light concentration applications. Utilizing its patent pending Blade Optics technology, which contains flat lenses, the company aims to disrupt conventional lens and image capture based systems.
SOURCE: NexOptic; http://nexoptic.com/_resources/news/nr_20160623.pdf?v=2