Ultrafast-laser pioneer Ursula Keller gets European Inventor Award 2018 for lifetime achievement
Keller has been a great benefit to the ultrafast-laser market, especially in Europe.
Jun 8th, 2018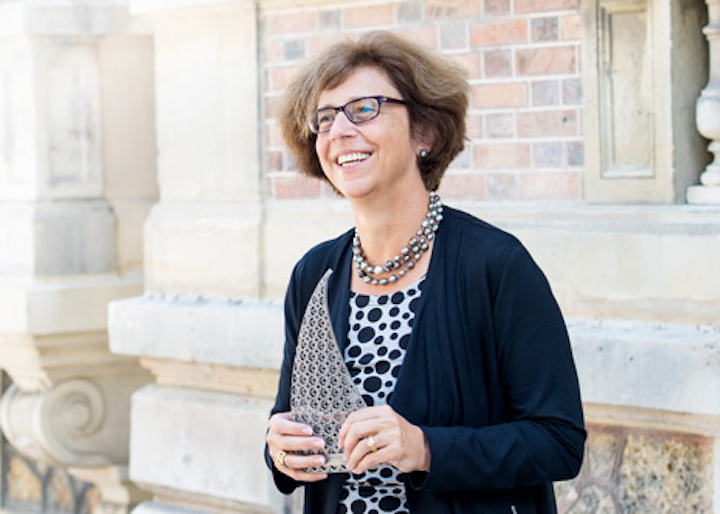 Ursula Keller, winner of the European Inventor Award 2018 in the category "Lifetime Achievement," at the award ceremony in Paris, Saint-Germain-en-Laye on 7 June. (Image: EPO)

The European Patent Office (EPO) honored Swiss physicist, inventor, and professor Ursula Keller with the European Inventor Award 2018 in the "Lifetime achievement" category, one of five award categories, at a ceremony held on June 7, 2018 in Paris, Saint-Germain-en-Laye, France. Over a career spanning more than three decades, Keller's landmark advancements have included the invention of the semiconductor saturable absorber mirror (SESAM) -- the first practical method for creating ultrafast pulses in solid-state lasers -- as well as lasers used in consumer electronics and in quantum physics research.

Ursula Keller has written for Laser Focus World, has been interviewed, along with her husband and colleague Kurt Weingarten, by Milton Chang for Laser Focus World, was the keynote speaker at Laser Focus World's 2015 Marketplace Seminar, and has been at the center of numerous Laser Focus World news stories [1] [2] [3].

The European Inventor Award is presented annually by the EPO to distinguish outstanding inventors from Europe and around the world who have made an exceptional contribution to social development, technological progress and economic growth. The winners were chosen by an independent international jury from a nomination list of more than 500 individuals and teams of inventors put forward for this year's award.

(Video: ESO)

Keller's patented SESAM technique has given lasers more accurate control for materials processing and has unlocked new processing techniques in fields ranging from optoelectronics and smartphone production to medical surgery and automotive manufacturing. In her role as professor at the Eidgenössische Technische Hochschule (ETH) Zurich, Keller has further developed the SESAM concept and has also designed precise scientific measuring equipment that explores fundamental physics at the quantum level.

Ursula Keller has not only helped redefine how lasers are used; she has also broken down gender barriers. Her constant advancements of laser technology have made her a global authority in the field of ultrafast photonics. At her ETH laboratory, she is mentoring the next generation of laser researchers -- many of whom have become professors and start-up entrepreneurs -- and opening doors to women in science.

Ultrafast lasers already constitute 20% of the global laser market and generated some EUR 2.2 billion in 2017. Keller's work has contributed to Europe taking a leading role in the field of ultrafast-laser development. Europe is home to just under three quarters of the world's petawatt-class ultrafast lasers, thanks in part to a consortium of leading institutes and companies including ETH Zurich.

Source: http://www.epo.org/news-issues/press/releases/archive/2018/20180607d.html