Nanoscribe to move into the ZEISS Innovation Hub at KIT
Karlsruhe Institute of Technology's Hub will house other high-tech and digital start-ups and 'carve-outs' as well.
Oct 24th, 2017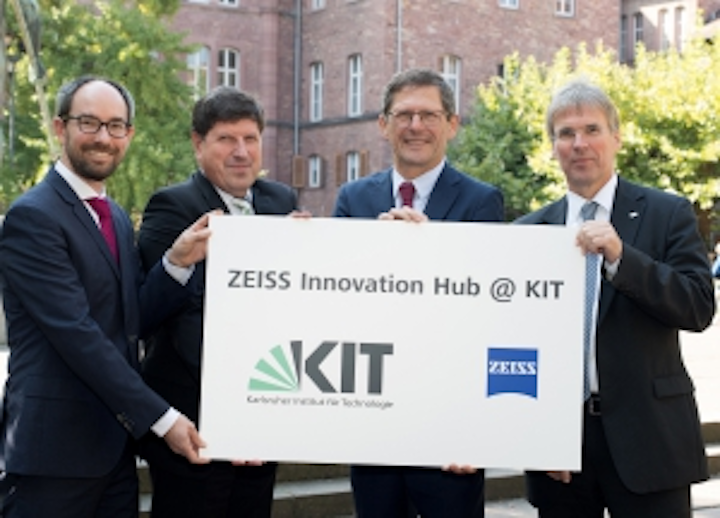 (From left to right): Martin Hermatschweiler, CEO of Nanoscribe, Prof. Dr. Thomas Hirth, vice president of KIT for Innovation and International Affairs at KIT, Prof. Dr. Michael Kaschke, president and CEO of ZEISS, Prof. Dr.-Ing. Holger Hanselka, president of KIT. (Image: ZEISS)
The high-precision 3D laser-printing specialist Nanoscribe (Eggenstein-Leopoldshafen, Germany) will move into the ZEISS Innovation Hub at the Campus North of the Karlsruhe Institute of Technology (KIT), the construction of which will begin in Early 2018. When completed, the €30 million Hub will cover 12,000 square meters of space. Nanoscribe produces 3D laser printers that can produce extremely complex structures on the microscopic scale for many industries, including optical imaging, integrated photonics, and optical communications.
Martin Hermatschweiler, CEO of Nanoscribe, says that he is looking forward to having all departments of Nanoscribe, which now is split up in different locations, reunited in one environment upon the completion of the Hub.
In forming the Hub, ZEISS aims to forge closer links between industry and science. In addition to Nanoscribe, ZEISS wants the Hub to house high-tech and digital start-ups as well as its own innovation and new-business activities. The new building will encompass modern offices, labs, and production areas for several young companies as well as Nanoscribe, KIT, and ZEISS. The building is scheduled to be operational by the end of 2019. The lease agreement is currently being defined by the parties.
KIT aims to use this hub to provide long-term prospects for "carve-outs" (small companies created from larger ones) at the site. The space currently available to this end has been maxed out. At the ZEISS Innovation Hub, KIT will be able to lease a portion of the space for its own carve-outs and innovation activities.
In 2007, Nanoscribe was the first spin-off of the KIT; ever since 2008, ZEISS has been a stakeholder of Nanoscribe. Subsidiaries of Nanoscribe in China and the United States are scheduled to be opened soon.
Source: Nanoscribe