Morf3D adds three EOS metal AM systems to its aerospace Innovation Center
Morf3D acquired three EOS metal additive manufacturing machines to expand capacity at its metal AM Innovation Center.
Mar 3rd, 2017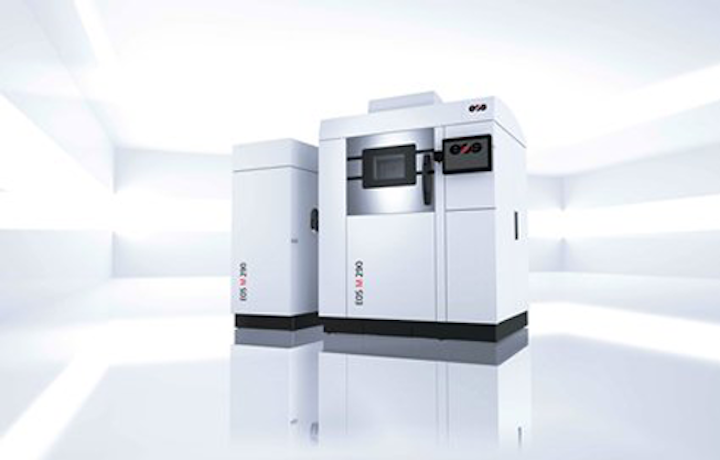 IMAGE: EOS M 290 metal additive manufacturing (AM) systems are among several other EOS systems that have been added to the Morf3D metal AM Innovation Center. (Image credit: EOS)
Additive manufacturing (AM) and engineering service provider Morf3D (El Segundo, CA) has acquired two EOS (Novi, MI) M 290 systems and an EOS M 400 to support and expand metal AM capacity, production expertise, and new development contracts. The units will operate in Morf3D's 6800 square foot metal AM Innovation Center in El Segundo.
RELATED ARTICLE: ASU site of largest academic additive manufacturing center in the southwest US
The Innovation Center provides clients with all-inclusive AM technology services across industries, including aerospace. This latest expansion of metal AM capacity follows Morf3D's prior purchase of two EOS M290 machines. The company will also be increasing its materials scope beyond aluminum and titanium materials to include Inconel and other alloys.
"The acquisition of these systems advances our vision of operating as a strategic supplier-partner with our customers, providing a comprehensive suite of AM services, from initial concept through part qualification and serial production," said Ivan Madera, CEO, Morf3D. "Our customers can concentrate on integrated systems objectives, while we provide innovative AM solutions to achieve transformational performance and cost objectives. EOS's technology is integral to this mission, and serves as the cornerstone of our metal printing capabilities."
Morf3D opened its Innovation Center in September 2015, and received AS9100 certification and ITAR approval in 2016. The company has received development contracts from major aerospace, defense and industrial customers, and expects to commence serial production in 2017. To meet demand, Morf3D has scaled its operations with the addition of engineering staff, computerized scanning and inspection systems, and post-process machining and finishing equipment.
"As a leader in AM production, Morf3D delivers end-to-end, innovative solutions for platform builders and system integrators across industries, and EOS is thrilled to serve as their partner," said Andrew Snow, Sr. VP, EOS of North America. "With Morf3D's lastest investment in growing their metal printing capabilities, and given the increasing use of AM in serial production, especially in aerospace, their customers will benefit from the precision, quality and repeatability that EOS's AM systems provide."
SOURCE: EOS; https://www.eos.info/additive-minds