Laser-equipped underwater drones keep farmed salmon healthy
Laser pulses are lighting up fish stocks to control a parasite--lice--that can injure or even kill farmed salmon.
Mar 28th, 2017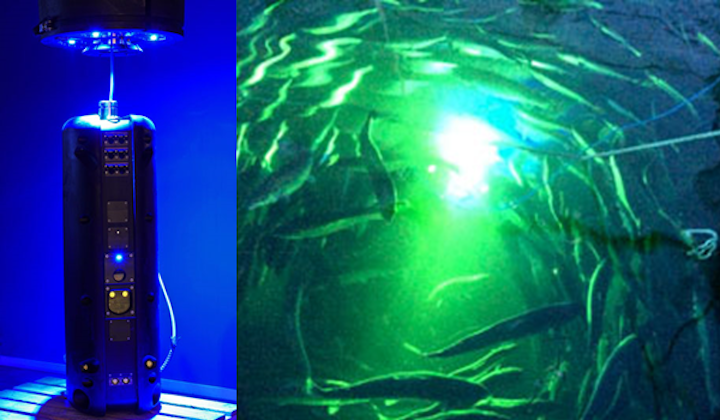 IMAGE: A 532 nm laser and camera system (left) housed inside the Stingray watertight aluminum package (the size of a boxer's heavy punching bag) can identify and remove lice from the scales of salmon at distances up to 2 m using a powerful burst of laser light (right). (Image credit: Stingray Marine Solutions)
Laser pulses are lighting up fish stocks to control a parasite--lice--that can injure or even kill farmed salmon that are part of an industry estimated at $10 billion annually in the US alone. The sea lice species Lepeophtheirus salmonis and Caligus elongates attach to salmon and sea trout, feeding off their tissues, blood, and protective external mucus membranes. Though the lice find the flesh and blood of wild and farmed fish equally palatable, the problem is particularly acute in densely populated salmon farm pens with 50,000 to 150,000 fish, where the parasites' food source are collected in a stationary place. As few as 11 lice can kill a smaller fish; a ­bigger group can leave an adult salmon wearing a grievous, bone-exposing "death crown."
RELATED ARTICLE: Laser fence aims to protect crops from rats and other pests
The latest of many attempts to rein in sea lice involves a software-and-camera-controlled underwater laser drone or "optical delouser". Along with colleagues at Beck Engineering (Oslo, Norway), Esben Beck, a young Norwegian designer and engineer, developed the system that's turning fish hatcheries into laser light shows. A couple of stereo cameras zero in on an individual louse attached to a fish in the pen; a thin laser beam shoots the bug, killing it but leaving the fish unharmed. This laser-beam killing machine, called the Stingray, is now being marketed by Beck spinoff Stingray­ Marine Solutions (Oslo, Norway).
Inside the Stingray's watertight aluminum package (which is about the size of a boxer's heavy punching bag) are a surgical diode laser of the sort used in dentistry, ophthalmology, and hair removal; a computer running image-matching software; small thrusters to move it through a pen; a winch for a buoy; and a 220 V power source. The software triggers the laser if it registers two matching frames confirming that the cameras are pointed at a louse. The resulting 530 nm beam will not hurt a highly reflective fish scale, but it will turn a small, darkish-blue louse into a floating crisp at a distance of up to 2 m (see video below).
The Stingray node is designed to be mostly autonomous. Its custom software can consider temperature, oxygen levels, and salinity when deciding where to position itself and when to fire laser pulses.
Farmed fish industry players Lerøy Seafood Group, Marine Harvest, and SalMar backed the project with a little under $2 million in seed funding. The Stingray node, first made available for sale in 2014, is now zapping lice at 100 salmon farms in Norway and was introduced in Scotland at the end of 2016.
The point, says John Breivik, Stingray Marine Solutions managing director, is to cut down on the use of other treatments, such as bringing all the salmon on board a boat to be washed with hot water, flushing them through strong currents to blast off the lice, or dousing them with chemicals such as hydrogen peroxide.
SOURCE: IEEE Spectrum; http://spectrum.ieee.org/semiconductors/optoelectronics/licehunting-underwater-drone-protects-salmon-with-lasers