IDTechEx says metal 3D printer equipment market growing at 48%
A new IDTechEx report says that metals are the fastest-growing segment of 3D printing.
Aug 2nd, 2015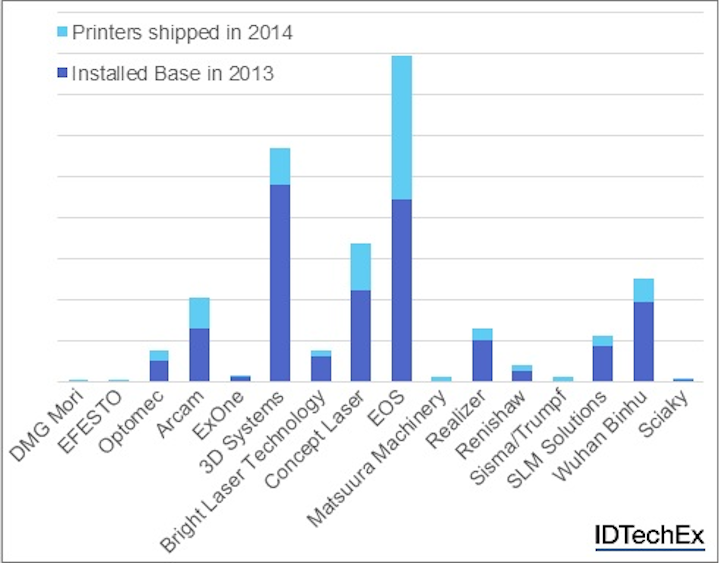 IMAGE: A breakdown of the installed base and 2014 sales by company shows that most metal 3D printing companies are experiencing huge growth in sales and there are many new players in the market. (Image credit: IDTechEx)
A new IDTechEx (Cambridge, England) report says that metals are the fastest-growing segment of 3D printing, with printer sales growing at 48% and material sales growing at 32. The report, 3D Printing of Metals 2015-2025, says that because of the current speed, size and cost limitations, the high-value, low-volume industries such as aerospace and biomedical, have been the earliest adopters.
RELATED ARTICLE: How does additive manufacturing 'stack up' against subtractive methods?
GE Aviation is investing $3.5B in a new plant to house EOS M-280 printers to print 100,000 fuel nozzles by 2020. Arcam claim their 3D printers have been used to manufacture more than 50,000 orthopedic implants so far. Both these industries demand titanium alloys, giving them a market share of 31% by volume. Aerospace is also heavily investing in cobalt alloys, nickel alloys, and aluminum alloys.

Jewelers are also early adaptors of SLM technologies for many reasons: there are no qualifying standards for jewelry; jewelry designers are already good at CAD; they are used to subcontracting; they are skilled in finishing and polishing; they are used to making bespoke items; and they crave design freedom and unusual designs. The jewelry industry is driving 3D printing in precious metals, with gold powder having a 49% market share by revenue.

Dental supplier Argen Digital offers metal substructures to make copings and bridges with the same properties as cast parts. Siemens are producing blades for gas turbines for power generation. NASA said that they intend to 3D print 80-100% of their rocket engines in the future.

The report covers the full range of metal 3D printing equipment including selective laser melting, electron beam melting, blown powder, metal + binder, welding, and other emerging technologies...using a wide range of precious metals and engineering alloys in a variety of industries including aerospace, automotive, dental, jewelry, oil and gas, orthopedics, printed electronics, and tooling.

The report includes a very detailed breakdown by company and technology of the worldwide 3D printer sales during 2014 and installed base at the end of 2014. The properties of all commercially available 3D metal printers are mapped by speed, volume, precision, and price. Powder shipments in 2014 by volume and revenue are detailed. Forecasts to 2025 are for the total installed base, printer shipments each year, printer prices, revenue from printer sales, and metal powder sales split by volume and revenue.

The information has been gathered by IDTechEx analysts from 29 formal interviews (included as profiles) and many informal conversations, since we started tracking the 3D printing market. However, this is the first time all the information on equipment, materials and applications related to metal 3D printing has been clearly displayed in one report.

SOURCE: IDTechEx; http://www.idtechex.com/research/reports/3d-printing-of-metals-2015-2025-000441.asp