2019 Mid-Year Laser Update
Margins are high enough on specialty lasers to counter some of the tariffs--not completely but partially.
Aug 25th, 2019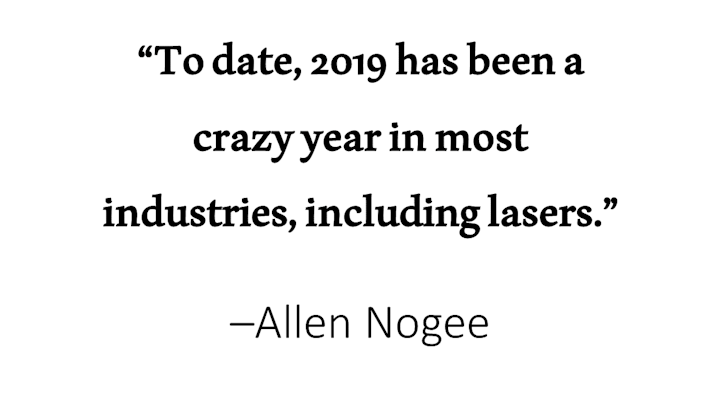 Laser Focus World
In his latest blog entitled "2019 Mid-Year Laser Update," Laser Markets Research president Allen Nogee updates the laser community on the effects of tariffs, trade, and manufacturing on this critical photonics sector. An excerpt follows:
"To date, 2019 has been a crazy year in most industries, including lasers. Trade tariffs between the U.S. and China has been the cause of much of this uncertainty, and these tariffs have indirectly caused other problems also, like having a negative impact on both the U.S. and China economies, and a decline in U.S./China relations. For example, China is the world's largest oil buyer, but Beijing's U.S. crude imports plummeted immediately after the trade war talk started. The same is true for agriculture, and as the trade war escalated, Chinese companies have stopped buying U.S. agricultural products, which could have a giant negative impact on U.S. farmers. But what about lasers?
As it turns out, with lasers, it's complicated. While China is the largest consumer of lasers in the world, especially in the materials processing segment, and with U.S. and European companies supplying most of these lasers, at least at higher-powers, the fact is U.S./China tariffs has not had a significant negative direct impact on lasers heading to China, and the reasons are two-fold. First, most large U.S.-based laser manufacturers are multi-national companies, and have the ability to shift their laser production around to different countries, if required. Lasers manufactured outside of the U.S. are not subject to tariffs when shipped to China, so instead of shipping U.S. manufactured lasers to China, these companies shift manufacturing to Europe, for example, then ship those lasers to China bypassing the tariffs. Others have moved their laser production to China, where again, tariffs don't apply. Smaller U.S. laser manufacturers without this ability selling to China have been hit much harder. nLight would be one example.
Second, many lasers exported to China are specialized, high-margin lasers without many substitutes. Tariffs typically do apply to these lasers, but margins are great enough where the added cost can be absorbed by the manufacturer. This is especially true for lasers used for scientific and research purposes. Margins are high enough on these lasers to counter some of the tariffs. Not completely but partially..."
To read more, see the source below.
And don't forget to attend the 2020 Lasers & Photonics Marketplace Seminar to see how the full-year laser markets are trending.
SOURCE: Laser Markets Research; https://www.lasermarketsresearch.com/2019-mid-year-laser-update/