BUSINESS FORUM: Finding selective markets, additive manufacturing becomes competitive
Here, I interview Dr. Ingomar Kelbassa, deputy director at the Laser Technology LLT at RWTH Aachen University and Department Head at the Fraunhofer Institute for Laser Technology. We will limit the discussion to laser additive manufacturing of metal parts.
Dec 9th, 2013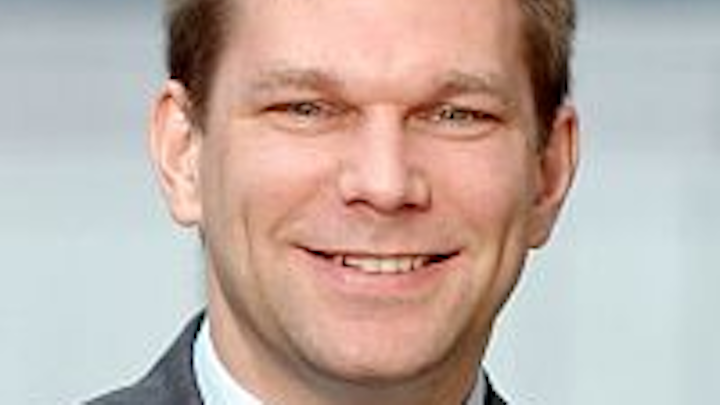 MILTON CHANG
3D printing is a hot topic. Even The Economist featured an article titled "3-D Printing, From Dental Braces to Astronaut's Seats" in its September 7, 2013 issue. It reports that Boeing and Airbus are using 12 m machines to print titanium jet fuselages. Here, I interview Dr. Ingomar Kelbassa, deputy director at the Laser Technology LLT at RWTH Aachen University and Department Head at the Fraunhofer Institute for Laser Technology. We will limit the discussion to laser additive manufacturing of metal parts.
Milton Chang:What is laser additive manufacturing?

Ingomar Kelbassa: Metal melted by a laser is used to build up the work-piece layer by layer. In the single-step process, laser material deposition (LMD), metal powder or wire feedstock is melted by a laser at the interaction zone for deposition by rapid solidification. In the two-step process, selective laser melting (SLM), metal powder is dispersed in a layer and then a modulated laser beam is scanned to melt the powder selectively before the next layer of powder is dispersed, and that is repeated iteratively.
The material property of SLM is comparable to machined parts, whereas LMD has less size constraint and can achieve higher throughput. SLM also has almost no limitation on the complexity of the structural configuration, but the starting point of the preform has to be flat.
MC:Why would people resort to additive manufacturing instead of conventional metalworking techniques?
IK: Parts are designed solely for functionality without concern for manufacturing.We can now produce parts that were not possible in the past using topology optimization to determine mathematically where to locate material to reduce weight, scrap, and processing time, and still offer the required strength and stiffness. The structure of gas turbines for energy generation that are being produced by additive manufacturing (AM), for example, can be quite complex, with internal cooling channels and coated with ceramics outside. AM is inherently more expensive if you look at just producing the part. But the cost can be competitive if you take into consideration the overall cost of manufacturing by including the amortization of tooling or the cost of managing the supply chain.
MC:Who are the customers for laser 3D printers?
IK: Personal 3D printers are currently growing a few-hundred percent a year because they enable inventors and entrepreneurs, tinkerers, and researchers to produce their own creations. And AM is now being viewed as a serious method of manufacturing, and is making an impact in aerospace, defense, dentistry, motor parts, and the consumer product industry. SLM has been used to make metallic dental implants coated with ceramics since 2002. Nowadays, the additive production of crowns, bridges, and dental implants is a standard manufacturing process. BMW is using SLM to make "pre-series" parts. Among consumer products being manufactured by AM are specialty furniture and lighting fixtures, home accessories, art, jewelry, trophies, and sporting and fashion goods. Some parts may require secondary finishing or post heat-treat to address microstructure issues, not unlike in a welded part. One has to always holistically consider the characteristics of the entire process chain from raw material to finished goods. Parts being produced include just about anything limited to the size of the SLM process chamber, which is 630 × 400 × 500 mm3.

MC: What lasers are used and what improvements are needed?

IK: The laser is not the limitation—the flow of the powder is because of clogging when the powder is too fine. Grain size is limited to approximately 35–150 μm in LMD and approximately 15–45 μm in SLM. Fiber, disk, and semiconductor lasers are used, as are CO2 lasers at times. Lasers are just a power source for melting.
MC: Fraunhofer ILT is a nonprofit institute funded 50:50 by government/industry. How does a project like this get started?

IK: We can apply for internal R&D funding from the institute when we have an idea we believe in. These funds usually come from royalty income generated by licensing IP, such as for MP3. Such a program can last 3–5 years to demonstrate the generic feasibility of the new process to get companies interested. We can then get funding to develop specific processes from system integrators who licensed the technology. The sharing of IP ownership is negotiated.

We work with the system integrator licensee to develop the first machine. The prototype is usually located in our lab so we can speed up the development of the processes. We become essentially the first customer to provide feedback to improve the machine. We don't usually consult with our partners personally. ILT is the consulting entity and we work for ILT. We can start companies; some of my colleagues did. But getting initial funding or making the first sale is not as easy as in the U.S.
MC: How many people do you have working on LAM, and what are the future directions?

IK: We have 40 technical people in three groups, and more products will be manufactured using LAM. We now have design freedom in geometry and in material to achieve weight and performance goals without being constrained by production concerns. For example, we can change the composition from layer to layer, or we can use layer buildup to implement fiber-reinforced structure with directional mechanical properties. We are always working on material composition and ways to increase the rate of flow of feedstock.
-----
MILTON CHANG of Incubic Management was president of Newport and New Focus. He is currently director of mBio Diagnostics and Aurrion; a trustee of Caltech; a member of the SEC Advisory Committee on Small and Emerging Companies; and serves on advisory boards and mentors entrepreneurs. Chang is a Fellow of IEEE, OSA, and LIA. Direct your business, management, and career questions to him at miltonchang@incubic.com, and check out his book Toward Entrepreneurship at www.miltonchang.com.