UNSW Canberra Space advances satellite image processing with SiC telescopes
CC Series telescopes from Aperture Optical Sciences provide the primary optical payload for the M2 satellite mission.
Aug 13th, 2018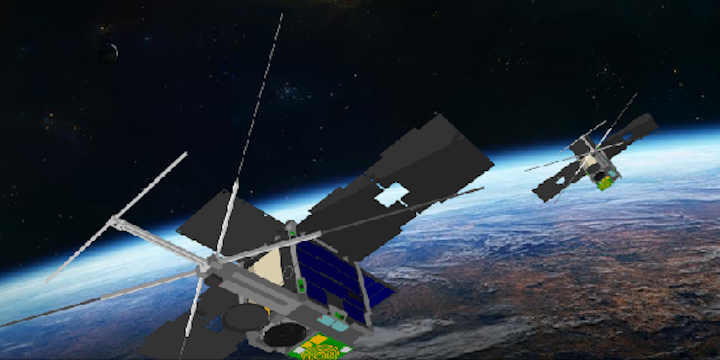 IMAGE: An artist's rendering shows the M2 satellite in orbit. (Image credit: University New South Wales, Canberra Space)
University of New South Wales (UNSW) Canberra Space (Canberra, NSW, Australia), a research team at a leading Australian University located at the Australian Defence Force Academy (ADFA), has ordered multiple CC Series telescopes from Aperture Optical Sciences (AOS; Meriden, CT). These telescopes provide the primary optical payload for the M2 satellite mission and support its role in developing world-class space capability in Australia.
RELATED ARTICLE: Metamaterial solar reflectors remove heat from spacecraft and satellites
The M2 mission is part of a research and development program supported by the Royal Australian Air Force which consists of a constellation of two advanced 6U Cubesats. The spacecraft have a suite of optical and RF remote sensing payloads to carry out a broad range of technology demonstration roles.
The novel approach to onboard data processing on the spacecraft aims to reduce the timeline between image acquisition and the ultimate delivery of information to decision makers.
"One of the primary goals of M2 is to develop a high-performance small spacecraft with imaging capability. We explored multiple options for the optical payload and found that the silicon carbide (SiC) telescopes from AOS provide us with the optimal combination of programmatic agility, coupled with low mass, thermal stability, and imaging quality," said professor Russell Boyce, director of UNSW Canberra Space. "We're impressed with their in-house capabilities for both design and manufacture of customized SiC optical payloads."
The CC Series is a new generation of high-performance telescopes for Cubesat and Small Satellite imaging and laser communication applications. Extensive use of SiC provides a telescope that is inherently athermal and low mass, providing consistent image quality and lowering launch costs.
SOURCE: Aperture Optical Sciences;http://www.apertureos.com/wp-content/uploads/2018/08/UNSW-AOS-Press-Release-2018-08-06-1.pdf