Heliatek raises nearly $90M to expand thin-film BIPV solar production
Organic PV and thin-film solar manufacturer Heliatek completed a nearly $90 million dollar round to finance BIPV.

Sep 26th, 2016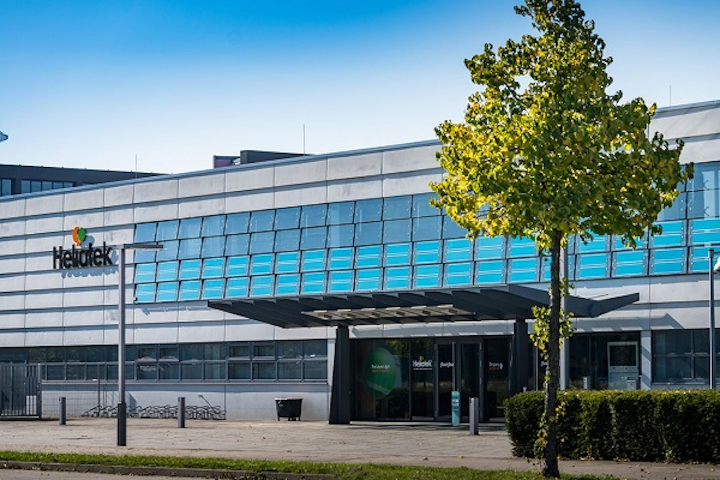 IMAGE: Heliatek headquarters is shown with active HeliaFilm facade. (Image credit: Heliatek)
Organic photovoltaic (PV) and thin-film solar manufacturer Heliatek (Dresden, Germany) has completed a nearly $90 million dollar (80 million euro) round to finance the expansion of its HeliaFilm manufacturing capacity by one million square meters. This round is composed of equity, debt, and subsidy financing.
RELATED ARTICLE: EU-funded ManuCloud develops flexible OLED/photovoltaic manufacturing
"This allows us to strengthen our world leadership in organic solar film and to accelerate our expansion. We will continue to lead the way in enabling distributed energy generation on industrial and commercial buildings," said Thibaud Le Séguillon, Heliatek CEO. "We will follow our strategy by expanding the BIOPV--building integrated organic photovoltaic--market through supplying large quantities of our HeliaFilms to our customers in the building and construction material field."
The Series D financing round is led by innogy SE, one of the leading European energy companies. New investors also include ENGIE, BNP Paribas and CEE Group, an investment company of Lampe Equity Management specialized in renewable energy. The existing investors, AQTON, BASF, eCAPITAL, High-Tech Gründerfonds, Innogy Venture Capital, TUDAG and Wellington Partners, participated in this round. Peter Terium, CEO of innogy SE, said, "I am really pleased that Heliatek is a true success story. We have continually invested in Heliatek since 2009. Thanks to our early engagement, we have the opportunity to participate in creating the market for one of the most exciting innovations in the area of renewable energies."
The company has applied for the newly developed "KETs Pilot Lines project" technology and innovation funding scheme offered by the State of Saxony and financed by the European Regional Development Fund (ERDF). Grants up to 18 million euro over the duration of the project can be expected. Minister President Tillich said, "Heliatek is the perfect example of the innovation power of the Saxon economy. My government is convinced of the economic potential and further technological development opportunities of not only the company but the entire field. Saxony is one of the leading regions in the field of Photonics."
Heliatek plans to install its new manufacturing roll-to-roll facility on its site in Dresden over the next 18 months. It will offer a capacity of one million square meters of solar films when fully ramped up. The company will continue in parallel its worldwide roll out of its HeliaFilm products to the building material and the automotive industry. These expansions should create more than 50 new high-tech jobs in Saxony.
SOURCE: Heliatek; http://www.heliatek.com/en/press/press-releases/details/heliatek-raises-80-million