Saule prints flexible perovskite solar modules with consistent 10% efficiency
Saule Technologies has also reached as high as 17.6% efficiency at the cell level (measured by an independent research institute).
Jun 27th, 2019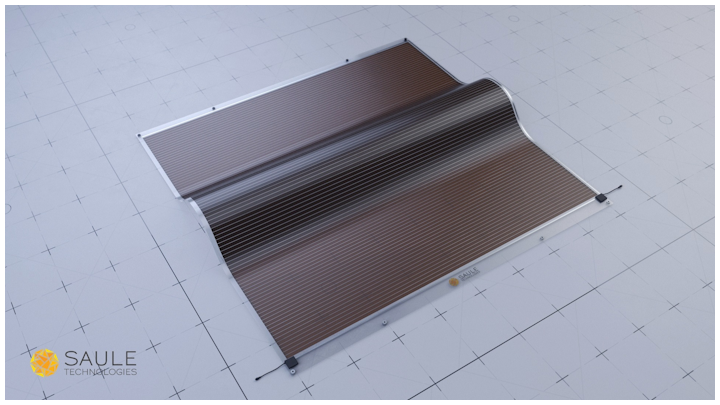 Saule Technologies
Saule Technologies (https://sauletech.com/) can print its flexible, lightweight, semi-transparent, single junction solar modules with a consistent 10% efficiency. This performance already enables BIPV and IoT applications in an economically viable manner. By the end of March, Saule Technologies has also reached as high as 17.6% efficiency at the cell level (measured by an independent research institute). The durability has been significantly improved as well, with the latest stability tests indicating multiple years of flawless operation under accelerated aging tests. Combining these significant improvements in terms of both efficiency and endurance is an outstanding achievement for a target single junction product of such a multitude of potential applications, with still huge room for improvement.
Halide perovskites are excellent solar energy harvesting materials, with lab-scale efficiencies already exceeding established thin-film technologies such as CdTe and CIGS.
"These results are a fantastic achievement of our first class, international R&D team working at the Technology Park in Wrocław," said Olga Malinkiewicz, Saule Technologies CTO and Founder. "We are incredibly excited with these results especially since Q4 2019 will see the launch of our prototype production line, which will be a modular system of printers targeting the pilot production capability of 40,000 square meters/annum. If we can achieve these results in our detached printer laboratory, then transposing this out of the Lab into the Production Line should see even more progress. Ultimately next year, we plan to expand the line printing capability to 200,000 square meters/annum if the technology transfer goes according to the plan." 
Saule Technologies is scheduling the launch of its prototype line during Q4 of 2019, capable of printing solar modules up to an area of 1 square meter. It will be an incredible achievement and lead to the first commercial sales planned under a Go-to-Market strategy based on securing offtake and creating the market via numerous Joint Development Agreements ("JDA") in negotiation, similar to the BIPV JDA with Skanska - which resulted in the demonstrator panel being installed on the Skanska commercial skyscraper in Warsaw.
"The Skanska demonstrator was printed in the Lab in Wrocław and is constructed out of 54 individually printed panels. Imagine what we will be able to do with the modular prototype line when it is installed," added Malinkiewicz. 
These accomplishments will enable the integration of Saule Technologies' solar modules into windows, facades, rooftops, or vehicles. Critically, the company's flexible strategy is also targeting the IoT market, which is expected to reach an immense size of 1567 billion euro by 2025. Saule Technologies' products are ideally placed due to their excellent low light/indoor performance - providing strong support for expanding the traditional PV usage (indoor and outdoor). Due to its proprietary technology, the company offers product implementation cost-effectively without compromising performance.
SOURCE: Saule Technologies; https://docs.google.com/document/d/1XQB9yrHWx9pFcolM6E3-60GcbRV29wCt5r5n_JBvBo4/edit