Tesla solar roof tiles already sold out well into 2018
Tesla's $2.6 billion acquisition of SolarCity might win over the doubters after all.
Jul 12th, 2017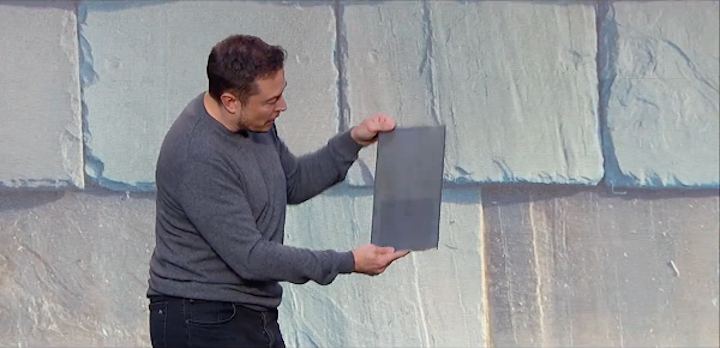 IMAGE: Tesla CEO Elon Musk is seen holding a tile amid an image of one style of the Tesla solar roof; note the solar panel just under the semi-transparent tile surface. (Image credit: Business Insider)
From a story on Investopedia, Tesla's (Palo Alto, CA; Nasdaq: TSLA) $2.6 billion acquisition of SolarCity might win over the doubters after all. The company's new solar roof tiles, which were first made available in May 2018, are sold out "well into 2018," according to Tesla CFO Deepak Ahuja.
RELATED ARTICLE: Heliatek raises nearly $90M to expand thin-film BIPV solar production
Ahuja spoke with analysts at RBC Capital Markets, who wrote to clients about the meeting in a note. The note was first reported on by Electrek, who independently confirmed that "Tesla's orders over the past few weeks indeed exceeded the company's expectations and based on their current planned production ramp up, they expect their current demand to last well into 2018."
Tesla started taking orders from U.S. customers on May 10 for its roof tiles, the ultimate in building-integrated photovoltaic (BIPV) technology, which come with a 30-year power generation guarantee and potential long-term cost savings. Pilot manufacturing of its first two types of tiles, smooth and textured, took place at the company's Fremont, CA facility, although the plan is to move production to its more suitable Gigafactory 2 plant soon. The Buffalo, NY-based factory houses tech developed by Tesla, SolarCity, and Panasonic--the Japanese electronics giant previously invested $250 million in the facility to help Tesla ramp up its production capabilities.
Tesla, which estimates that its eco-friendly roofs are much cheaper than conventional ones, due mainly to savings generated from cheaper electricity bills, is set to launch two more styles of its solar tiles, Tuscan glass and Slate glass, early next year. It also plans to start selling its solar roof tiles to overseas customers in 2018.
However, if demand continues to soar, Tesla may find it difficult to keep up. Aside from being under pressure to meet its production commitments, the company also has to contend with the difficult task of installing the roofs. According to Electrek, Tesla has been busy trying to recruit roofers to solve this challenging issue.
According to Business Insider, Tesla announced that the typical homeowner will pay $21.85 per square foot for the solar roof. For a 3000-square-foot home, that would amount to $65,000. Customers must place a $1,000 deposit to order the solar roof.
SOURCE: Investopedia; http://www.investopedia.com/news/teslas-solar-roof-tiles-sold-out-well-2018-tsla/ and Business Insider; http://www.businessinsider.com/tesla-solar-roof-orders-open-features-photos-2017-5