ID Quantique partners with South Korean telecom giant on quantum technologies
ID Quantique announced a strategic investment plan of $65 million with SK Telecom to partner on quantum solutions.
Feb 27th, 2018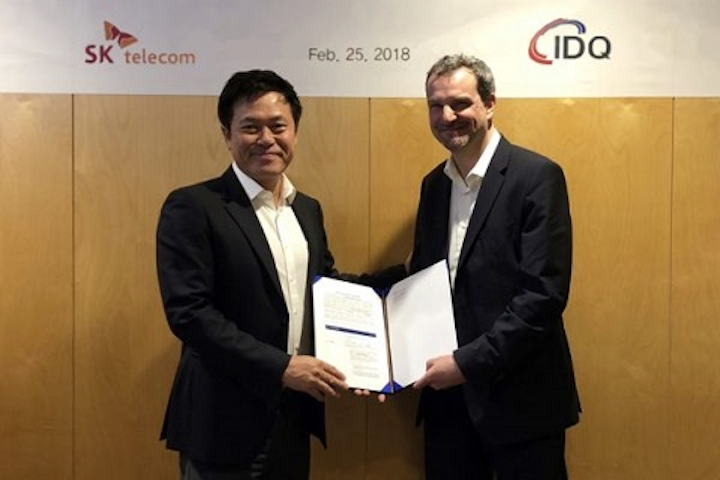 IMAGE: Park Jung-Ho, CEO and President of SK Telecom (left), and Grégoire Ribordy, co-founder and CEO of ID Quantique (right), at the signing ceremony for their strategic investment plan. (Image credit: ID Quantique)
ID Quantique (IDQ; Geneva, Switzerland) announced a strategic investment plan of $65 million from investor SK Telecom (Seoul, South Korea; NYSE:SKM), the South Korean telecom giant. The companies say the investment will strengthen ID Quantique's position as the global leader in quantum safe cryptography and quantum sensing solutions. It will also help IDQ to continue to develop global markets and partnerships in quantum technologies for the telecom and Internet of Things (IoT) markets.
RELATED ARTICLE: ID Quantique photon counter launched aboard PicSat satellite
In the hyper-connected 5G era where some 43 billion devices worldwide based on data by market research firm Gartner about expected number of connected devices in 2026 get connected through wireless networks, the importance of cybersecurity in mobile communications will rise exponentially. Against this back­drop, quantum cryptography has emerged as an essential solution for safeguarding critical information. The technology encrypts transmitted data using special quantum keys, which, according to the laws of quantum physics, are impossible to intercept or steal.
According to market research firm Market Research Media, the global quantum cryptography communications market will grow into a $24.75 billion industry by 2025. Macrotrends such as 5G and IoT will be major accelerators for IDQ's quantum-safe and quantum sensing solutions in a world where exponential amounts of data will be exchanged.
IDQ has had a long term relationship with SK Telecom. In 2016 the company invested US$ 2 million in IDQ and in 2017 developed the world's smallest (5 x 5 mm) Quantum Random Number Generator based on technology and know-how licensed from IDQ.
As the first South Korean conglomerate to establish a quantum technology laboratory in 2011, SK Telecom has continuously invested in the development of quantum cryptography for wireless communications networks. As part of the transaction, SK Telecom's quantum laboratory will become part of IDQ.
"In the 5G era where everything in the real world is connected wirelessly, the issue of safety will continue to rise," said Park Jung-ho, CEO and President of SK Telecom. "We will continue our utmost efforts to provide our customers with the world's safest 5G technology."
"Quantum communications technologies will play a significant role in securing our data and communications, both in backbone networks and at the edge, in an era where the quantum computer will render vulnerable much of today's cryptography," added Grégoire Ribordy, CEO and co-Founder of IDQ. "We are proud to work closely with SK Telecom. Partnering with them will allow us to accelerate development of leading-edge solutions to meet these market needs. Together we can enter new geographic and vertical markets and meet the increasing demands for security."
ID Quantique and SK Telecom will, in parallel, collaborate in the field of Quantum Sensing in order to keep growing the company's core quantum photonics technologies and provide the most innovative solutions for high potential industrial markets.
SOURCE: ID Quantique; https://www.idquantique.com/id-quantique-sk-telecom-join-forces/