Agilent uses QCLs and scanning optics to speed chemical sample analysis and imaging
With this information, scientists can analyze more samples and in greater detail in minutes instead of hours.
Oct 20th, 2018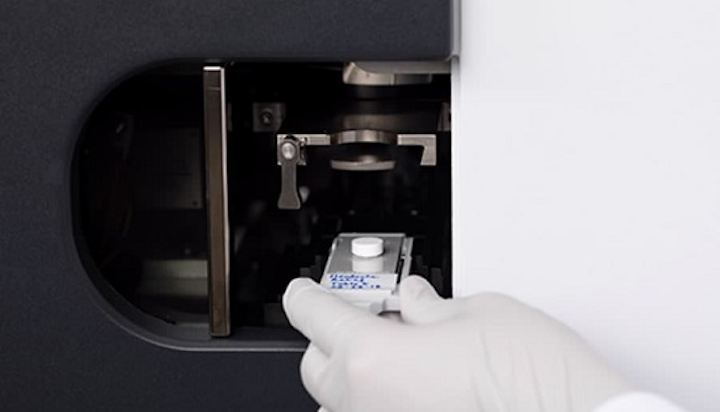 IMAGE: The Model 8700 Laser Direct Infrared (LDIR) system is a new approach to chemical imaging that the company says will bring improved clarity and measurement speed to pharmaceutical, biomedical, food, and materials science applications. (Image credit: Agilent Technologies)
The 8700 Laser Direct Infrared (LDIR) chemical imaging system from Agilent Technologies (Santa Clara, CA; NYSE: A) provides chemical imaging and spectral analysis for pharmaceutical tablets, laminates, tissues, polymers, and fibers. "With this information, scientists can analyze more samples and in greater detail in minutes instead of hours," says Phil Binns, vice president and general manager of Agilent's Spectroscopy division. He notes that the system is particularly suited to pharmaceutical laboratories, saying, "scientists will be able to make more informed decisions--in less time--in product formulation development and trouble-shooting."
Using the 8700 LDIR, scientists can obtain actionable information about active pharmaceutical ingredients, excipients, polymorphs, salts, and defects to enable users to quickly identify and resolve issues experienced during drug development. The Agilent design uses quantum cascade laser (QCL) light, high spatial imaging, and Agilent Clarity software to create detailed chemical images. Unlike other QCL imaging systems that use 2D focal plane array (FPA) detectors, the 8700 LDIR uses a single-element electrically cooled detector to eliminate laser coherence artifacts from images and spectra, sharpening images and improving the reliability of spectral data.
The Agilent 8700 LDIR works in either reflectance or Attenuated Total Reflectance (ATR) mode, automatically switching between these two modes by directing the incident beam to the appropriate objective. The movement of the sample relative to the beam is fully automated, this process yields a high-quality two-dimensional molecular image in a remarkably short time period. The 8700 LDIR has two visible channels: a large field of view camera to obtain an entire view of the sample and a microscope grade objective to capture high magnification detail.
The 8700 LDIR system's compact size, lack of liquid nitrogen, and automated operation make high-definition chemical imaging accessible to operators of all levels. Now users can minimize time spent on sample analysis and data review, which leads to increased productivity. Simple load-and-go methods also save time and make it ideal for walk-up use in both commercial and academic settings.
SOURCE: Agilent; https://www.agilent.com/about/newsroom/presrel/2018/01oct-ca18070.html