Seed funding grows to $10M for solid-state lidar startup Blickfeld
The new financial resources will be used for the first series production and to further strengthen the team.
Dec 21st, 2018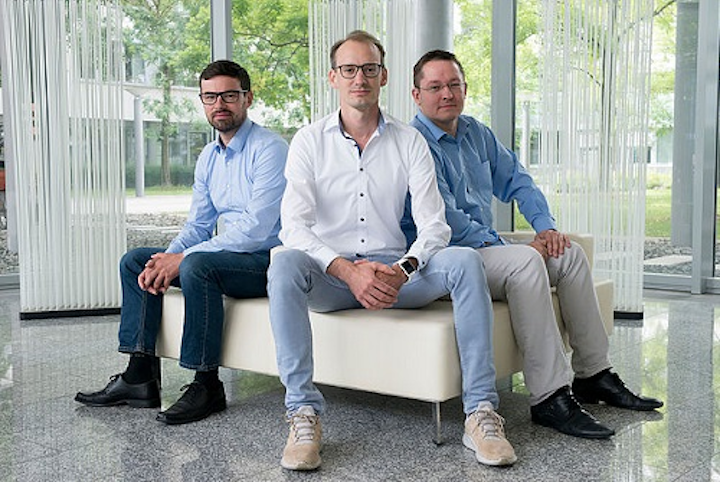 IMAGE: Shown are the founders of lidar startup Blickfeld. (Image credit: Blickfeld)
Light detection and ranging (lidar) startup Blickfeld (Munich, Germany) has increased its seed funding to $10 million dollars. All existing investors Fluxunit - OSRAM Ventures, High-Tech Gründerfonds, Tengelmann Ventures, and Unternehmertum Venture Capital Partners participated in the round. The new financial resources will be used for the first series production and to further strengthen the team.
Founded in 2017, Blickfeld develops solid-state lidar technology for autonomous mobility and Internet of Things (IoT) applications. Its patented, proprietary three-dimensional lidar technology is based on silicon microelectromechanical systems (MEMS) mirrors and commercial off-the-shelf (COTS) components. Blickfeld says its lidar product family meets the highest performance requirements at the cost and size needed for mass market adoption.
The increase from $4.3 million to $10 million in the seed financing round completed just a few months ago will further accelerate the company's rapid growth. Blickfeld co-founder and CEO, Mathias Müller said, "We have made very good progress with our LiDAR technology in recent months. High international demand confirms the efficiency of the Blickfeld solution. The expansion in seed financing will enable us to bring our first series product to market even faster."
Ulrich Eisele, managing director at Fluxunit - OSRAM Ventures, says, "Results from the first customer projects speak for themselves. That's why we are expanding our activities at Blickfeld. We are convinced that Blickfeld's LiDAR technology can be a key building block for the future market of autonomous driving."
Founded in 2017 by Mathias Müller, Florian Petit, and Rolf Wojtech, the start-up has grown considerably in recent months. Today, the Blickfeld team already numbers more than 35 employees. The company plans on hiring additional engineers, automotive experts and computer scientists in the upcoming months, as well as expanding its business-development, marketing and sales teams.
SOURCE: Blickfeld; https://www.blickfeld.com/lidar-start-up-blickfeld-increases-seed-funding-to-10-million/