Marktech Optoelectronics unveils multiwavelength optical emitters and detectors for consumer wearables
Marktech also has design and test capabilities, as well as wearables-specific applications engineering support.
Dec 3rd, 2018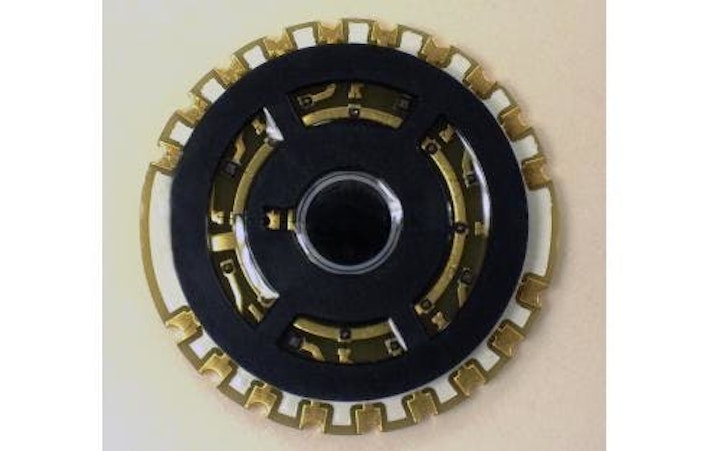 (Image: Marktech)Marktech Optoelectronics (Latham, NY) has announced a line of photonic components intended for consumer wearables such as fitness trackers and other health sensors. Marktech produces standard and custom optoelectronics components and assemblies including UV, visible, near-infrared (NIR), and short-wavelength infrared (SWIR) emitters, detectors, InP epiwafers and other materials. The components include optical emitters and detectors in multiwavelength and hybrid designs and in the UV, visible, infrared, and SWIR ranges, are used in consumer- and hospital-grade flexible, stretchable, and wearable devices. Some of the most common wearable applications supported by Marktech include consumer-grade fitness trackers; high-end cardiac, oxygen, and blood-pressure monitors; audiological diagnostic devices, used to detect inner ear abnormalities and damage; noninvasive optical chemical sensing; and indoor/outdoor UV-level detection.Detection ranges of up to 150 to 1750 nm For wearable designs requiring more advanced onboard monitoring and detection capabilities, Marktech offers multiwavelength emitter-detector combinations that can be integrated into a single package along with a multiwavelength range detector. In addition, Marktech's silicon and indium gallium arsenide (InGaAs) photodetectors can be similarly combined with its fallium phosphide (GaP) Schottky UV photodiodes to create an expanded spectral detection range of approximately 150 to 1750 nm. Optoelectronics assemblies are available in plastic, ceramic, and glass-to-metal (hybrid) package types. A number of options are also available to effectively address specialty requirements for hermetic sealing, temperature extremes, and humid or moisture-rich environments. Marktech high-brightness LED emitters are routinely specified for wearable displays and remote physiological monitoring requirements. Standard LED emitters are offered in wavelengths from 280 nm to 1720 nm, with expanded wavelengths by special request. These Marktech LED emitters can be further optimized for low power consumption. Such optimizations can result in increased wearable device battery life while still maintaining required output levels. Operating currents of 2 mA or less are also possible. In applications requiring the incorporation of a white LED, an assortment of color temperatures and color rendering index (CRI) values are available, as well as lower-profile direct-attach (DA) type chip packages.In-house design and testing All design and testing of Marktech optoelectronics components and assemblies is conducted from the company's R&D center in Latham. Marktech has in-house capabilities to perform complete electrical and optical characteristics testing from die-level to finished product designs, as well as complete end-to-end examinations of related components and assemblies. Wearables-specific applications-engineering support is also available.
For more info, see https://www.marktechopto.com.

Source: http://blog.marktechopto.com/marktech-optoelectronics-announces-multi-wavelength-emitters-detectors-and-leds-for-wearables/