Headwall integrates hyperspectral and lidar instruments aboard UAV platforms
The platform should enable remote-sensing capabilities from civil-infrastructure inspection to crop monitoring.
Jun 11th, 2018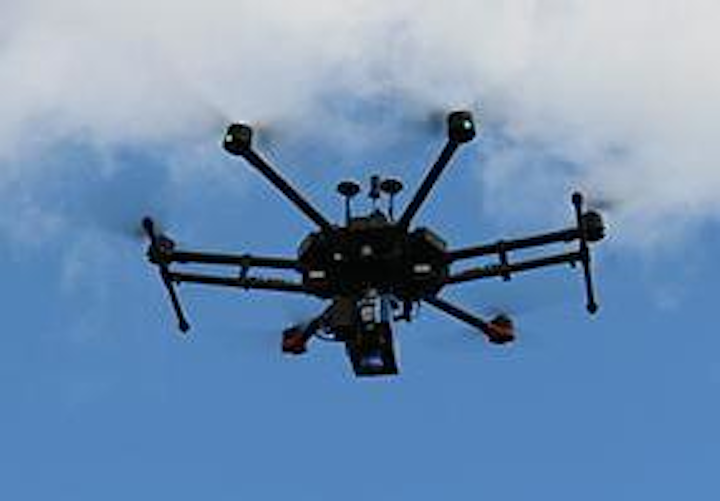 (Image: Headwall Photonics)
Headwall Photonics (Bolton, MA) has now introduced advanced sensor payloads that consist of hyperspectral sensors and lidar for deployment on unmanned aerial vehicle (UAV) platforms.
Headwall says that the fusion of spectral imaging data and 3D LIDAR output will provide new capabilities for addressing critical remote-sensing applications that range from civil- and military-infrastructure inspection to crop-science applications that require crop monitoring.
The Headwall payload consists of the company's Hyperspec spectral imager, a lidar unit, a UAV, a high-performance GPS/IMU (inertial measurement unit), and the associated software for data acquisition and workflow processing for exploitation.
The combination of hyperspectral and lidar is especially powerful, says Headwall, because the entire data set can be acquired on inexpensive UAV platforms with both sensor instruments operating simultaneously. Headwall's software allows for the control of both instruments, uses a digital elevation map for image creation, and allows for the merging of spectral datasets with the 3D point cloud.
Instruments are getting smaller and lighter and UAVs more robust and powerful. Headwall's integrated airborne packages are designed for low-altitude, high-precision flight for applications where high spectral and spatial resolution is required. Headwall says it focus is on integrating these sensor modalities and providing the necessary image-workflow analysis for data exploitation.
The implementation of hyperspectral and LiDAR involves a high-performance GPS/IMU that collects both geographical data (the GPS) and roll/pitch/yaw information from the UAV (the IMU). This data, as well as lidar and hyperspectral information, is stored aboard Headwall's small Nano-Hyperspec instrument, which includes a 500 GB solid-state drive within its enclosure. Combined, the entire data set represents a geo-rectified point cloud consisting of fused spectral and lidar output, which Headwall say is an industry first.
Source: Headwall Photonics