Unveiled at CES 2018: wearable fingernail-sized UV dosimeter powered by the sun
Developed at Northwestern, the photosensing instrument can actually be mounted on a fingernail and is becoming a product.
Jan 9th, 2018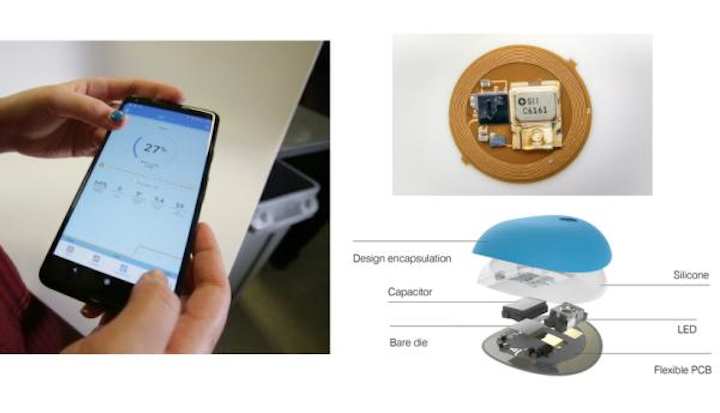 The UV Sense wearable UV dosimeter is seen at left mounted on someone's fingernail; when the device is swiped across a smartphone, an LED in the device communicates accumulated UV dose to the phone. Upper right is the device's electronics; lower device is an expanded view (although not pointing out the UV photosensor itself). (Images: Northwestern University and L'Oréal)
In one of the latest instances of wearable photonics, John A. Rogers, a professor at Northwestern University (Evanston, IL), working in conjunction with the global beauty company L'Oréal and the wearable-technology company MC10 (Lexington, MA), has developed the smallest wearable UV dosimeter in the world. The device mounts on a fingernail and precisely measures a person's exposure to UV light from the sun, helping to prevent skin cancer -- including melanoma, the most lethal form of skin cancer.
Smaller than an M&M, the device was unveiled Sunday, Jan. 7, at the 2018 Consumer Electronics Show (CES; Las Vegas, NV). The commercial version of the dosimeter is called UV Sense. The device can be produced in any color with any pattern, logo, or branding.
UV Sense is solar powered and thus needs no battery. It is waterproof and can be attached to almost any part of the body or clothing, where it continuously measures UV exposure in a dose-accumulation mode. It can store up to three months of data, is less than two millimeters thick and nine millimeters in diameter, and is designed to be worn for up to two weeks on the thumbnail, an optimal location to measure exposure to the sun.
"It is orders of magnitude smaller than anything else out there," Rogers says. "It also is one of the few sensors that directly measures the most harmful UV rays. Further, it simultaneously records body temperature, which is also very important in the context of sun exposure."
Device communicates with smartphone via a swipe
Users download an app on their smartphone (iOS or Android), then swipe the phone over the device to see their exposure to the sun, either for that day or over time. The app can suggest other, less UV-intense times for outdoor activities or give peace of mind to individuals who are concerned about overexposure but have not been overexposed.
Rogers' research group at Northwestern, in collaboration with June Robinson and other researchers at Feinberg School of Medicine (part of Northwestern), have received a roughly $2 million grant from the U. S. National Institutes of Health to deploy the fingernail UV sensors in human clinical studies of sun exposure in cohorts of subjects who are at risk for melanoma. The first pre-pilot field trials launched in December.
UV Sense will be available on a limited basis in the U.S. for the 2018 summer season with a global launch following in 2019. Details will be available on www.laroche-posay.us.
Sources:
https://news.northwestern.edu/stories/2018/january/northwestern-researchers-develop-worlds-smallest-wearable-device/s
http://www.lorealusa.com/media/press-releases/2018/january/uv-sense