Light-driven elastic waves help scientists understand the effects of light's momentum
A highly reflective dielectric mirror and an acoustic sensor array collect info on elastic transients in the mirror.
Aug 21st, 2018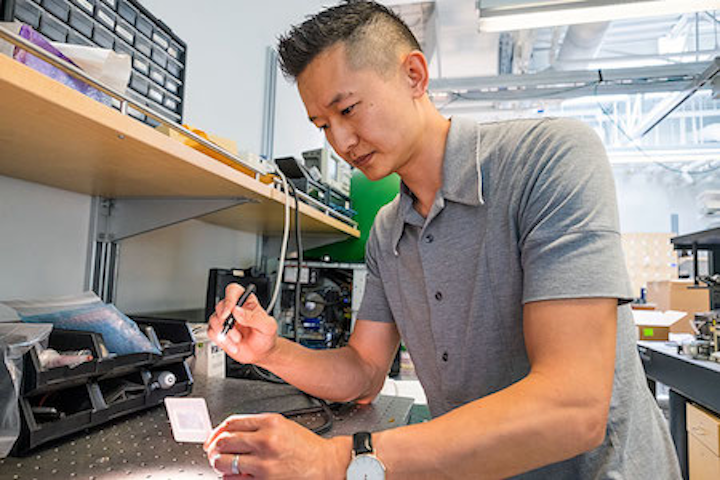 Kenneth Chau, team leader. (Image: UBC Okanagan)Light has momentum, which can be transferred to matter (as in sunlight pushing a comet's tail away from the sun), but the exact nature of how light interacts with matter has remained a mystery. New research from the University of British Columbia's Okanagan campus (Kelowna, BC, Canada), has helped in understanding how light transfers its momentum to matter.1 UBC Okanagan Engineering Professor Kenneth Chau and his international research team from Slovenia and Brazil are shedding light on this mystery. To measure these extremely weak interactions between photons and matter, the team constructed a solid dielectric mirror fitted with acoustic sensors and heat shielding to keep interference and background noise to a minimum. Because the mirror has near-perfect reflectivity (99.93%) at the test wavelength (1064 nm), the light's momentum transferred to the mirror is entirely due to reflection. The researchers shot laser pulses at the mirror and used the sound sensors to detect elastic waves as they moved across the surface of the mirror. This type of experiment requires acoustic sensors that are fast (greater than 1 MHz bandwidth) and sensitive (position resolution of around 10 fm). The excitation laser produced pulses with a pulse length of about 19 ns, an energy of 160 mJ, and a circularly symmetric tapered top-hat spatial distribution with a 4.1 mm diameter. The researchers say that momentum transfer from the laser pulse occurs within the first few layers of the mirror's high-reflection coating. The fused-silica mirror material has a low coefficient of thermal expansion, supressing thermal acoustic excitation, leaving primarily the momentum-transfer acoustic excitation. "We can't directly measure photon momentum, so our approach was to detect its effect on a mirror by 'listening' to the elastic waves that traveled through it," says Chau. "We were able to trace the features of those waves back to the momentum residing in the light pulse itself, which opens the door to finally defining and modeling how light momentum exists inside materials." The discovery is important in advancing the fundamental understanding of light, but Chau also points to practical applications of radiation pressure such as interstellar yachts powered by solar sails or optical tweezers that could assemble microscopic machines. Source: https://news.ok.ubc.ca/2018/08/21/ubc-okanagan-researchers-shine-a-light-on-150-year-old-mystery/ REFERENCE: 1. Tomaž Požar et al., Nature Communications (2018); https://doi.org/10.1038/s41467-018-05706-3.