Innoviz teams with Jabil to mass-produce autonomous vehicle lidar solution
Innoviz entered into an agreement with Jabil to mass-produce the Innoviz autonomous vehicle lidar solution.
May 24th, 2017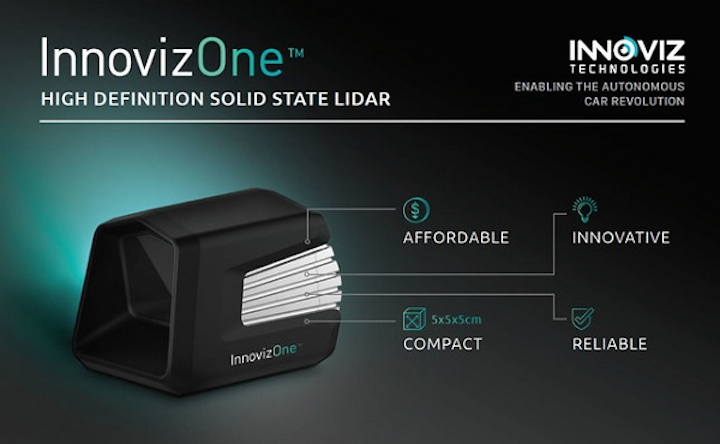 IMAGE: Innoviz Technologies announces a partnership with Jabil to produce an after-market lidar solution called InnovizPro. (Image credit: Innoviz)
Innoviz Technologies (Kfar Saba, Israel), a provider of light detection and ranging (lidar) intelligent sensing solutions designed for the mass commercialization of autonomous vehicles, announced the development of InnovizPro, an after-market lidar solution designed for testing and R&D of autonomous driving technology. The company has entered into an agreement with Jabil, a product solutions company providing electronics design, production, and product management services, to mass produce the product. InnovizPro will be available starting Q1 2018.
RELATED ARTICLE: Application parameters dictate laser source selection in lidar systems
InnovizPro is a solid-state lidar device that uses Innoviz's patent-pending sensor technologies and proprietary architecture to deliver object detection and accuracy at lower costs than existing lidar solutions. The product will enable auto manufacturers, shared mobility companies, autonomous driving technology companies, and Tier 1 suppliers to conduct effective development and testing of autonomous driving technology.
Earlier this year, Innoviz unveiled InnovizOne, its flagship automotive grade lidar device offering high-definition 3D scanning in a compact, affordable, solid-state design. Innoviz is currently engaging with leading stakeholders on the integration of InnovizOne into driving systems and is continuing development, targeting automotive grade quality for levels 3-5 autonomous driving. Samples of InnovizOne will be available during Q1 2019.
Innoviz says that both InnovizOne and InnovizPro offer high-definition intelligent 3D sensing to provide an accurate and reliable scan of a vehicle's surroundings. The devices will leverage Innoviz's proprietary system of MEMS and detector design to perform in challenging environments such as night-time, bright sunlight, and varying weather conditions. In addition, the company's proprietary solid-state design introduces a device without mechanical moving parts compared to many traditional lidar solutions.
"Our mission is to enable the autonomous vehicle revolution by providing the highest performance, lowest cost and most compact LiDAR solutions on the market," said Omer Keilaf, CEO & co-founder of Innoviz. "Companies are currently spending tens of thousands of dollars on under-performing LiDAR solutions in order to test their autonomous vehicles. We've decided to release our current design and make it available for field production purposes now, because it is already so much more advanced and less expensive than what's currently available on the market."
Keilaf went on to say, "We teamed up with Jabil because of their recent investments in technology that enable autonomous driving for all types of vehicles. We are leveraging the engineering excellence of their Optics team, together with their automotive expertise, to support our new product introduction efforts at their newest facility in Haifa, Israel."
"Our Optics experts are excited to collaborate with Innoviz to develop and deploy their 3D scanning and sensing solution," said Irvin Stein, VP of Jabil Optics. "Combining the strengths of our engineering teams with the ingenuity of Innoviz is exactly the disruptive edge required to execute on key technologies for autonomous driving."
SOURCE: Innoviz; https://www.innoviz.tech/