Trailer-sized AMOLITE lidar station reads atmosphere to 10 km altitudes
Canadian researchers developed AMOLITE to obtain atmospheric profiles using lidar.
May 22nd, 2017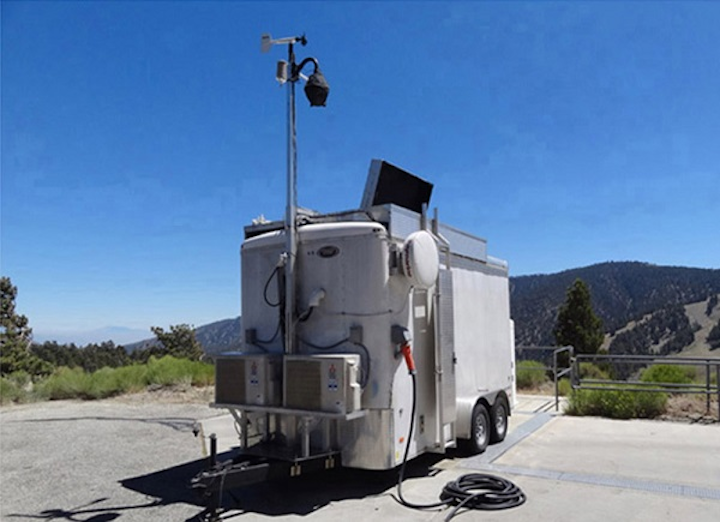 IMAGE: A photograph shows the Autonomous Mobile Ozone Lidar Instrument for Tropospheric Experiments (AMOLITE) mounted in a climate-controlled mobile trailer. (Image credit: SPIE Newsroom)
Researchers from the Air Quality Processes Research Section, Environment and Climate Change Canada (ECCC; Toronto, Canada), have developed the Autonomous Mobile Ozone Lidar Instrument for Tropospheric Experiments (AMOLITE) to obtain atmospheric profiles from near to the ground to altitudes of more than 10 km.
RELATED ARTICLE: Application parameters dictate laser source selection in lidar systems
Lidar (light detection and ranging) technology has rapidly advanced over the past several decades. From a number of different platforms, this technique can now be used to measure a variety of atmospheric constituents with ever increasing accuracy and at ever finer scales, but typically require an operator to control the complex equipment. To overcome the need for a lidar operator, a team at Environment and Climate Change Canada (ECCC) has previously designed several autonomous aerosol lidar systems to support a number of research objectives.
The AMOLITE system builds upon the successes of their earlier autonomous lidars, but now uses a synergistic approach to simultaneously measure the vertical profiles of tropospheric ozone, aerosols, and water vapor. The design combines a dual laser for redundancy purposes and a dual lidar design; that is, the tropospheric ozone Differential Absorption lidar (DIAL) and an aerosol lidar with three backscatter channels, two Raman channels, and one cross-polarization channel ('3+2+1' configuration). In addition, a water vapor channel--arising from the Raman-shifted 355 nm output (407 nm)--has been added to provide nighttime water vapor profiles. The final product of the system is lidar profiles (near-ground to 10-15km altitude) at minute-long intervals. The system is operated remotely 24 hours a day, seven days a week (except during precipitation events). Furthermore, data is updated hourly to a website, thus enabling near-real-time analysis.
The team was able to evaluate the performance of its AMOLITE ozone lidar through an intercomparison study--with four other tropospheric ozone lidar systems, all of which are part of the Tropospheric Ozone Lidar Network(TOLNet). They conducted this study--known as the Southern California Ozone Observation Project (SCOOP)--at the Jet Propulsion Laboratory's Table Mountain Facility in Wrightwood, CA. The results show a good level of agreement between AMOLITE and other lidar systems.
SOURCE: SPIE Newsroom; http://spie.org/newsroom/6870-autonomous-ozone-aerosol-and-water-vapor-profiling-of-the-atmosphere