Laser Doppler vibrometry characterizes Big Ben's bong
University of Leicester researchers have mapped the vibration of Big Ben to understand its harmonious tone.
Mar 10th, 2017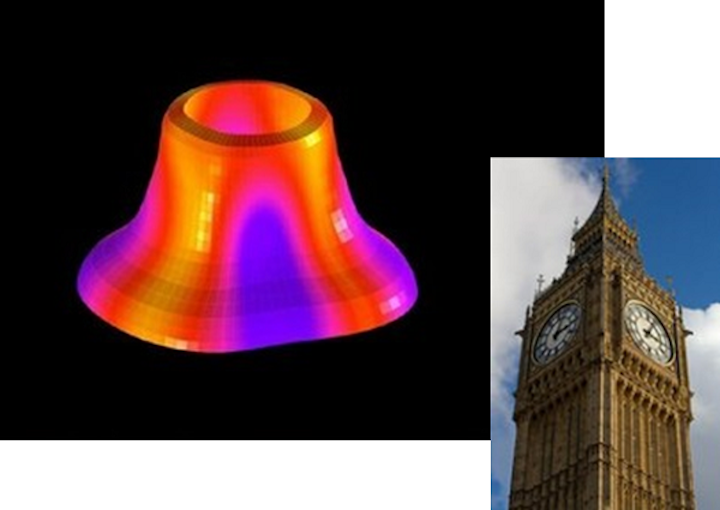 IMAGE: 3D animation shows one of the vibration patterns of the chimes of Big Ben (inset). (Image credit: Carl Vivian/University of Leicester)
A team from the Department of Engineering at the University of Leicester (Leicester, England) has mapped the vibration, for the first time ever, of the famous London bell Big Ben in order to reveal why it produces its distinct harmonious tone. The group from the Advanced Structural Dynamics Evaluation Centre (ASDEC) at the University of Leicester measured four chimes of Big Ben at 9 am, 10 am, 11 am, and 12 noon using laser Doppler vibrometry--creating a 3D computer model of Big Ben and then using lasers to map the vibrations in the metal of the bell as it chimed.
RELATED ARTICLE: Laser-speckle monitoring could allow remote listening
ASDEC, working with the BBC, measured the structural dynamics of Big Ben in an unprecedented level of detail after being given exclusive access to the iconic structure. The two scanning laser Doppler vibrometers used were able to characterize Big Ben without touching it, providing high-density vibration measurements without any loss of accuracy or precision.
The findings of the mapping project will be revealed during a BBC documentary entitled 'Sound Waves: The Symphony of Physics', which was broadcast at 9 pm on 2 March, 2017 on BBC4 and hosted by Helen Czerski.
Martin Cockrill, a technical specialist from the Department of Engineering, who leads ASDEC's measurement team and appears in the documentary, said, "Aside from the technical aspects one of the most challenging parts of the job was carrying all of our equipment up the 334 steps of the spiral staircase to the belfry. Then to get everything set up before the first chime, we were literally working against the clock. Many of the vibrations in the metal of Big Ben are too tiny to be seen by the naked eye. But this is what we were able to map using the lasers and not just one or two points on the surface; we were able to get over 500 measurements across the surface which just wouldn't have been possible with previous technologies."
Martin Cockrill and Max Chowanietz led the team from a technical point of view undertaking the measurements with two other members of the team, Chris Howe and Amy Stubbs.
SOURCE: University of Leicester; http://www2.le.ac.uk/news/blog/2017-archive/march/engineers-measure-big-ben2019s-bong