RoboSense lidar to equip GACHA bus fleet for ultracold-weather and winter conditions
Apr 4th, 2019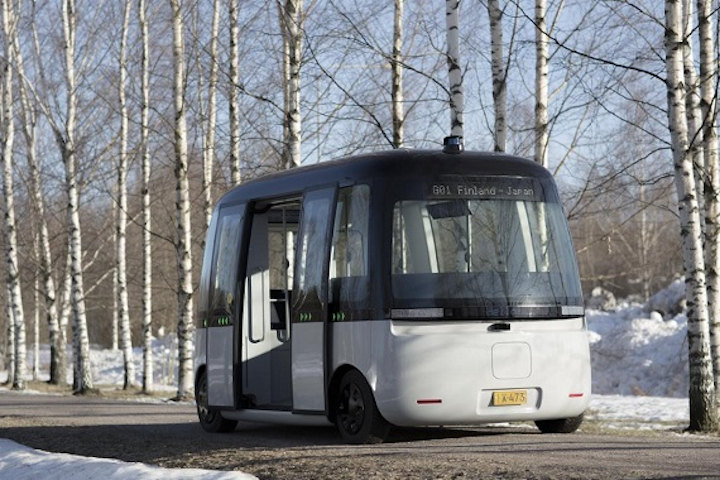 IMAGE: RoboSense lidar systems will be deployed on cold-weather and winter conditions as part of the GACHA bus system in Finland and other countries. (Image credit: RoboSense)
RoboSense (Shenzhen, China), lidar perception technology solutions provider, has providedcold-resistant all-weather lidar for the world's first autonomous driving shuttle bus for all weather conditions--GACHA.GACHA is equipped with RoboSense's cold-resistant 16-beam mechanical lidar environment perception system to operate vehicles in harsh winter and other severe weather conditions. The autonomous shuttle bus robo-taxi GACHA was designed in collaboration with Finnish autonomous driving company Sensible 4,who provided software for positioning, navigation, and obstacle detection; Japanese company MUJI, who provided expertise in design and user experience; and RoboSense, who provided cold-resistant lidar.
Environment perception is a huge task facing autonomous vehicle providers who require operation in all-weather conditions. Under extreme weather conditions, the performance of critical sensors, such as lidar and cameras, are severely impacted. Low temperatures, such as those in Finland, where winter temperatures can reach as low as -30 degrees Celsius (-22 Fahrenheit), can incapacitate the performance of semiconductor components, while snow- and ice-covered roads essentially cripple the image algorithms' ability to determine abstract environment information. In addition, on an extremely cold day, the motor of a multilayered lidar might not even power on, as well as causing detection accuracy and ranging performance to be diminished.
"The RoboSense LiDAR hardware and environment perception algorithms we use are reliable and stable, even at freezing temperatures of tens of celcius degrees below zero," said Harri Santamala, CEO of Sensible 4. "The GACHA development got started when the Sensible 4 team, working back then with the first generation of robot buses, noticed that they just don't perform at all, even in light rain, not to mention the typical winter conditions in Finland. Completely autonomous self-driving technology is not here yet. Most self-driving cars can operate only in ideal weather conditions and well-marked roads. This is what Sensible 4 has managed to change through repeated tests in the harsh winter conditions of the Finnish Lapland."
SOURCE: RoboSense; https://lidarnews.com/press-releases/robosense-first-autonomous-driving-shuttle-bus-for-all-weather-conditions/