Single-shot on-chip spectrometer is candidate for smartphones, health-care devices, and manufacturing monitors
Based on photonic-crystal slabs, a miniature spectrometer is made via 100% CMOS-compatible processes.
Apr 8th, 2019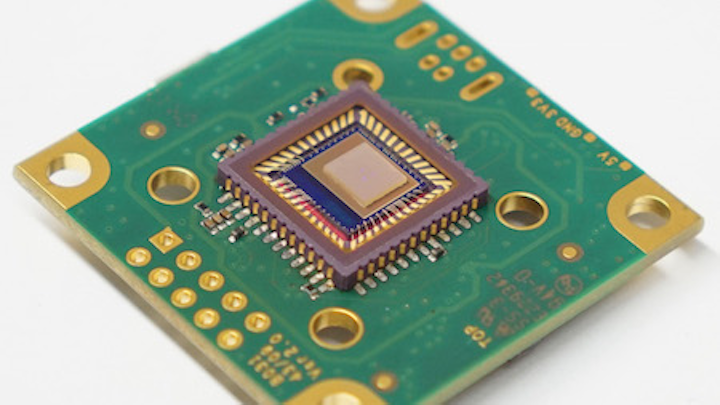 This compact and low-cost spectrometer could help turn ordinary cell phones into advanced analytical tools. At the center of the device, a 210-µm-square photonic-crystal slab sits atop a camera sensor. (Photo courtesy of Zongfu Yu)

Engineers at the University of Wisconsin-Madison have developed a spectrometer that is so small and simple that it could integrate with the camera of a typical cell phone without sacrificing accuracy. The device contains photodetector arrays overlaid with photonic-crystal slabs placed on top of the detector pixels, giving each pixel region a different spectral response.1 The individual spectral responses are complicated and finely patterned ("random" spectral filters) and an algorithm is used to extract the spectral profile of the incoming light.

"This is a compact, single-shot spectrometer that offers high resolution with low fabrication costs," says Zhu Wang, one of the researchers.

The team's devices can be configured for hyperspectral imaging (where each pixel captures spectral information, resulting in spectral info across a whole image).

Spectrometers usually rely on prisms or gratings to split light emitted from an object into spectral bands. A camera then can capture and analyze those bands; for example, the spectral fingerprint of the element sodium consists of two bands with wavelengths of 589 and 590 nm.

To have both high spectral sensitivity and large bandwidth, conventional spectrometers usually must be relatively large with a long optical path length. The new spectrometer is a mere 210 µm on a side and thin enough to lie directly on a sensor from a typical digital camera.

The small size was possible because the researchers based their device on photonic-crystal slabs that force incoming light to bounce back and forth several times before reaching the sensor, elongating the path length without adding bulk, boosting the devices' resolution. The instrument has a spectral range of 550 to 750 nm and a resolution of 1 nm.

Next, the team hopes to boost the device's spectral resolution as well as the resolution of the images it captures.

Source: https://www.engr.wisc.edu/broadening-spectrum-professional-quality-pin-sized-sensor-everyday-applications/

REFERENCE:

1. Zhu Wang et al., Nature Communications (2019); https://www.nature.com/articles/s41467-019-08994-5.