Innoviz $9M funding targets $100 autonomous vehicle lidar by 2018
Innoviz Technologies announced a $9 million Series A round to fund development of high-performance, low-cost lidar.
Aug 9th, 2016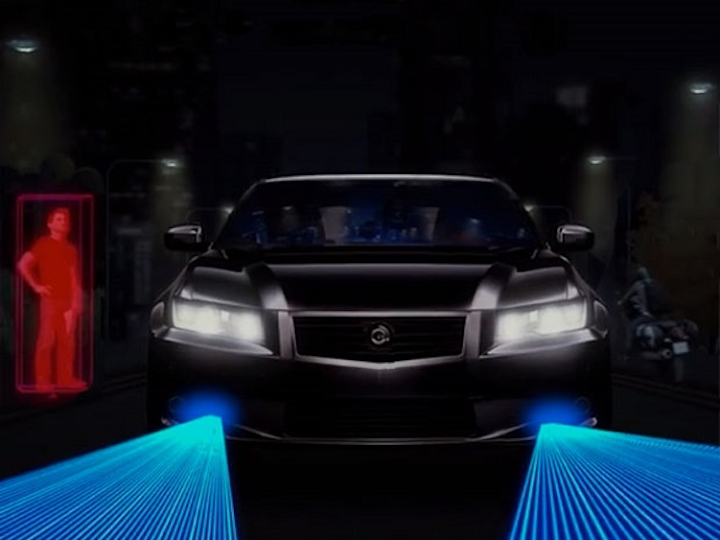 IMAGE: A conceptual diagram shows a vehicle equipped with light detection and ranging (lidar) technology. (Image credit: Innoviz Technologies via IEEE Spectrum)
Innoviz Technologies (Kfar Saba, Israel) announced a $9 million Series A round to fund the development of a high-performance, low-cost, solid-state light detection and ranging (lidar) to enable fully autonomous driving. Lidar is recognized by most (but not all) groups developing autonomous vehicles as a necessary sensor, because it provides high resolution and long-range three dimensional (3D) data that are independent of lighting conditions and most weather.
RELATED ARTICLE: Lidar nears ubiquity as miniature systems proliferate
However, the cost and complexity of currently available lidar systems make them impractical for most consumer vehicles. For that reason, Innoviz is trying to deliver, within the next year or two, a "game changing high definition solid state lidar (HD-SSL) based on breakthrough technology which offers superior performance and accuracy." The device is expected to have a wider field of view and higher resolution in both axis and long range sensing than today's lidar systems. But Innoviz says it will be significantly smaller, both in size and price.
IEEE Spectrum reports that six months ago at CES, they saw Quanergy's prototype solid state lidar sensor that it is hoping to provide to OEMs in 2017 at a price of $250. They also published an article by MIT researchers reporting the development of a $10 on-chip solid-state lidar (http://www.laserfocusworld.com/articles/pt/2016/08/mit-and-darpa-pack-lidar-sensor-onto-single-chip.html) which is very exciting but still several years out from commercialization at a scale that would benefit vehicle autonomy. Innoviz is positioning itself somewhere in the middle, with a $100 solid-state lidar designed specifically for autonomous vehicles that it's hoping to have in production by 2018.
IEEE Spectrum reports that Innoviz is being very stealthy about how, exactly, their technology works, but says it spoke with the company's CEO Omer Keilaf and co-founder Oren Rosenzweig anyway. Although they didn't divulge anything in the way of technical detail, a questionnaire revealed some of the details they are considering. Please see the full story from IEEE Spectrum for those details.
When asked when the sensor will be available, Rosenzweig said: [By the end of 2016] we will have a scanning lidar with performance that is close to the final target one--but still at a relatively high cost point and comparatively larger size than the final one. An enhanced performance version will be available by middle of 2017, and final cost/performance version by the middle of 2018.
SOURCE: IEEE Spectrum; http://spectrum.ieee.org/cars-that-think/transportation/sensors/israeli-stealth-startup-innoviz-promises-100-solidstate-automotive-lidar-by-2018