NASA spectral evidence points to presence of liquid water on Mars
An imaging spectrometer on NASA's MRO provides strong evidence that liquid water flows on present-day Mars.
Sep 30th, 2015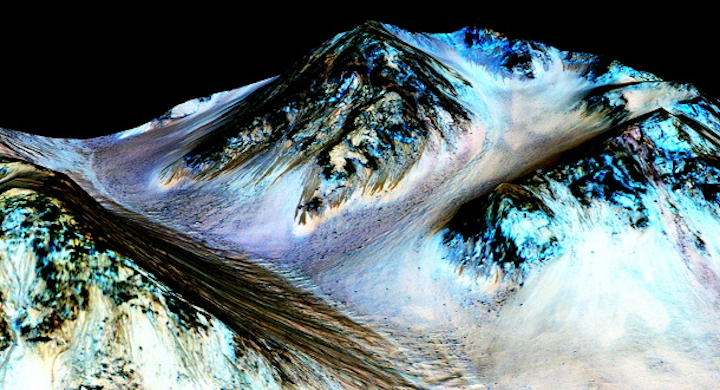 IMAGE:Dark, narrow streaks on Martian slopes such as these at Hale Crater are inferred to be formed by seasonal flow of water on contemporary Mars. The streaks are roughly the length of a football field. The imaging and topographical information in this processed, false-color view come from the High Resolution Imaging Science Experiment (HiRISE) camera on NASA's Mars Reconnaissance Orbiter. (Image credit: NASA)
Using an imaging spectrometer on NASA's Mars Reconnaissance Orbiter (MRO), researchers detected signatures of hydrated minerals on slopes where mysterious streaks are seen on the Red Planet, providing the strongest evidence yet that liquid water flows intermittently on present-day Mars. These darkish streaks appear to ebb and flow over time. They darken and appear to flow down steep slopes during warm seasons, and then fade in cooler seasons. They appear in several locations on Mars when temperatures are above minus 10 degrees Fahrenheit (minus 23 Celsius), and disappear at colder times.
RELATED ARTICLE: Imaging spectrometers examine the world around us
"Our quest on Mars has been to 'follow the water,' in our search for life in the universe, and now we have convincing science that validates what we've long suspected," said John Grunsfeld, astronaut and associate administrator of NASA's Science Mission Directorate in Washington. "This is a significant development, as it appears to confirm that water--albeit briny--is flowing today on the surface of Mars." The following video describes the findings in detail:
These downhill flows, known as recurring slope lineae (RSL), often have been described as possibly related to liquid water. The new findings of hydrated salts on the slopes point to what that relationship may be to these dark features. The hydrated salts would lower the freezing point of a liquid brine, just as salt on roads here on Earth causes ice and snow to melt more rapidly. Scientists say it's likely a shallow subsurface flow, with enough water wicking to the surface to explain the darkening.
Lujendra Ojha of the Georgia Institute of Technology (Georgia Tech) in Atlanta, lead author of a report on these findings published Sept. 28 by Nature Geoscience, first noticed these puzzling features as a University of Arizona undergraduate student in 2010, using images from the MRO's High Resolution Imaging Science Experiment (HiRISE). HiRISE observations now have documented RSL at dozens of sites on Mars. The new study pairs HiRISE observations with mineral mapping by MRO's Compact Reconnaissance Imaging Spectrometer for Mars (CRISM).
Ojha and his co-authors interpret the spectral signatures as caused by hydrated minerals called perchlorates. Perchlorates have previously been seen on Mars. NASA's Phoenix lander and Curiosity rover both found them in the planet's soil, and some scientists believe that the Viking missions in the 1970s measured signatures of these salts. However, this study of RSL detected perchlorates, now in hydrated form, in different areas than those explored by the landers. This also is the first time perchlorates have been identified from orbit.
MRO has been examining Mars since 2006 with its six science instruments.
For Ojha, the new findings are more proof that the mysterious lines he first saw darkening Martian slopes five years ago are, indeed, present-day water. "When most people talk about water on Mars, they're usually talking about ancient water or frozen water," he said. "Now we know there's more to the story. This is the first spectral detection that unambiguously supports our liquid water-formation hypotheses for RSL."
The agency's Jet Propulsion Laboratory (JPL; Pasadena, CA), a division of the California Institute of Technology, manages the MRO Project for NASA's Science Mission Directorate, Washington. Lockheed Martin built the orbiter and collaborates with JPL to operate it. The University of Arizona, Tucson, operates HiRISE, which was built by Ball Aerospace & Technologies (Boulder, CO).
SOURCE: JPL; http://www.jpl.nasa.gov/news/news.php?feature=4722