FMCW instrument with 10 µm ranging accuracy at 2 m uses low-cost VCSEL scanning
A high-accuracy range-sensing system for noncontact shape measurement incorporates low-cost, rapidly modulated VCSELs.
May 1st, 2018
Manufacturing of large objects such as turbines, automobiles, and trains would benefit tremendously from high-accuracy (tens of microns) ranging technology spanning meter-scale distances or dimensions. To that end, researchers at Hitachi (Yokohama, Japan) and the University of California, Berkeley have developed a high-accuracy range-sensing system for noncontact shape measurement that uses frequency-modulated continuous-wave (FMCW) technology incorporating low-cost, rapidly modulated vertical-cavity surface-emitting lasers (VCSELs).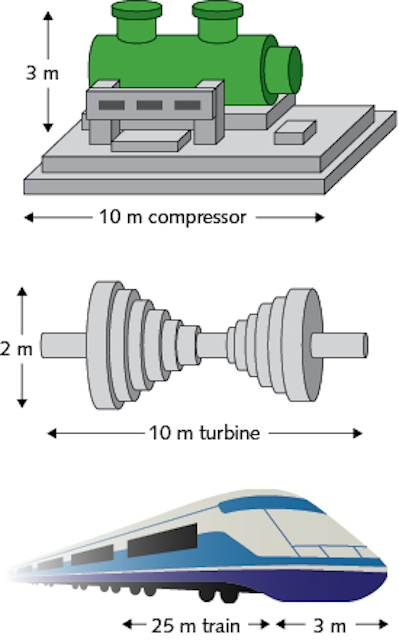 Besides triangulation, time-of-flight (TOF), and phase-shift methods, FMCW does offer high accuracy at long ranges. However, the best value achieved previously, using an expensive frequency comb source for calibration, was 10 µm resolution at 10 m range. Optical coherence tomography (OCT) can also achieve tens of microns resolution at 1 m range, but with expensive swept frequency lasers, and OCT with VCSELs has been achieved, but only at sub-meter ranges. The Hitachi/Berkeley method uses a 0.85 mW (boosted to 10 mW with a semiconductor optical amplifier or SOA) 1550 nm VCSEL that can span 1540 to 1549 nm by ramping input current. Sampling of the almost-sinusoidally modulated VCSEL through a Mach-Zehnder interferometer setup enables 10 µm accuracy ranging at 2 m, all while establishing calibration through a known-reflectance-wavelength series of fiber Bragg gratings in the setup path. Reference: T. Hariyama et al., Opt. Express, 26, 7, 9285–9297 (2018); https://doi.org/10.1364/oe.26.009285.