Folded path enables compact spectrometer
Biological warfare agents and explosives on the battlefield may one day be sniffed out by a compact time-of-flight (TOF) mass spectrometer under development by researchers at the Johns Hopkins University Applied Physics Laboratory (APL; Laurel, MD), in collaboration with teams at the Johns Hopkins School of Medicine (Baltimore, MD) and the University of Maryland, Baltimore County. In TOF mass spectrometry, sample molecules are ionized, accelerated across a voltage to reach an identical kinetic e
Jul 1st, 1997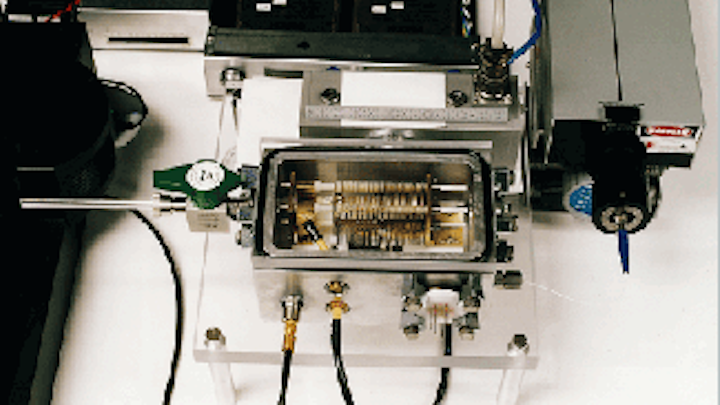 Folded path enables compact spectrometer
Kristin Lewotsky
Biological warfare agents and explosives on the battlefield may one day be sniffed out by a compact time-of-flight (TOF) mass spectrometer under development by researchers at the Johns Hopkins University Applied Physics Laboratory (APL; Laurel, MD), in collaboration with teams at the Johns Hopkins School of Medicine (Baltimore, MD) and the University of Maryland, Baltimore County. In TOF mass spectrometry, sample molecules are ionized, accelerated across a voltage to reach an identical kinetic energy, then released to drift across a known distance to reach a detector, separating en route according to their mass-to-charge ratio. The data can be plotted as a mass spectrum--ion intensity versus mass-to-charge ratio--featuring peaks identifying various compounds.
Conventional mass spectrometers are bulky instruments requiring large amounts of power. The goal of the DARPA-funded APL tiny time-of-flight (TTOF) mass-spectrometer project is to produce a highly sensitive, field-portable system that will enable battlefield personnel to search for hazards such as biological warfare agents or explosives from mines and unexploded ordnance.
The APL group, led by Mark Boies and Scott Ecelberger, has combined and refined several mass-spectrometry approaches to produce this ultracompact instrument (see figure on p. 26). These include the use of laser irradiation to ionize sample molecules and the use of an applied electric field in the drift region to fold the path and reduce error caused by kinetic-energy variations from ion to ion. The latest prototype was discussed at the recent American Society for Mass Spectrometry meeting (Palm Springs, CA, June 1-6, 1997).
Lasers and reflectrons
To ionize sample molecules, the instrument incorporates matrix-assisted laser desorption/ionization (MALDI). Con- ventionally, in this technique, a sample is dispersed into a matrix material, generally by wet-chemical methods in which the matrix solution and sample solution are mixed, applied to a sample probe, and allowed to dry. A pulsed laser irradiates the sample probe, ionizing the molecules. The matrix absorbs the energy and transfers it to the sample molecules, ionizing them and desorbing them into the gas phase.
To increase field-compatibility in the TTOF instrument, the grou¥is developing an alternative to the conventional wet-chemical MALDI approach. A substrate coated with an ultraviolet-light-absorbing adhesive polymer captures the sample molecules by direct contact (in the case of solids) or by adhesion with gas-phase molecules (in the case of airborne agents). A series of 140-µJ, 3.5-ns pulses from a nitrogen laser operating at 337 nm ionize the sample molecules and force them into the gas phase. The pulses are delivered to the ionization chamber by multimode silica optical fiber.
A trio of Einzel lenses directly behind the ionization chamber accelerates the ions across a dc potential of 400 V and launches them into the drift region where differentiation takes place. Con ventional TOF instruments feature drift tubes as long as 3 m, hardly practical in a field-portable device. Moreover, the ionization process can introduce kinetic-energy variations in the same types of ions, which persist in the drift region, introducing an error in the data.
To skirt these difficulties, the APL grou¥turned to a folded-path approach incorporating a previously demonstrated device known as a reflectron, which uses a linear electric field to turn the ions by 180. More-energetic ions penetrate deeper into the reflectron; because they travel a longer path than less-energetic ions of the same type, they experience a delay such that the ions leave the reflectron and arrive at the detector at the same time. Thus, the technique not only decreases the size of the instrument, it eliminates a source of error.
In addition to the polymer-coated sample probe, the laser-ablation ionization system, and the reflectron, the TTOF instrument contains a microchannel-plate detector and associated data-acquisition hardware and software.
To date, the grou¥has developed a fiber-coupled TOF system roughly 6 ¥ 6 ¥ 8 cm, with an associated compact (3 ¥ 10 ¥ 15 cm) nitrogen laser and battery pack. Along with a lapto¥computer, the entire system is small enough to fit in a briefcase. Future work will include increases in analytical capability, further reductions in size and weight, and studies of potential applications in medical diagnostics and environmental monitoring. The project timeline calls for a battlefield-ready system by 1999.
Click here to enlarge image
Click here to enlarge image
Prototype tiny time-of-flight mass spectrometer is part of a program to produce a highly sensitive, field-portable system capable of biological sensing.