SPECTROmeters
BOSTON, MA--A spectrometer based on a tunable fiber grating could be used in a lidar system to determine whether the atmosphere of Mars contains water, as well as having more down-to-earth applications. At the Technology 2007 conference in late September, Michael Krainak of NASA Goddard Space Flight Center (Greenbelt, MD) reported developing a low-cost spectrometer that uses an off-the-shelf Fabry-Perot diode laser and a fiber grating with an output wavelength that can be mechanically, thermally
Nov 1st, 1997
SPECTROmeters
Fiber spectrometer offers picometer resolution
Yvonne Carts-Powell
BOSTON, MA--A spectrometer based on a tunable fiber grating could be used in a lidar system to determine whether the atmosphere of Mars contains water, as well as having more down-to-earth applications. At the Technology 2007 conference in late September, Michael Krainak of NASA Goddard Space Flight Center (Greenbelt, MD) reported developing a low-cost spectrometer that uses an off-the-shelf Fabry-Perot diode laser and a fiber grating with an output wavelength that can be mechanically, thermally, electrically, or magnetically tuned. A short-cavity system demonstrated resolution of less than a pico meter (10-12 m).
The recent Pathfinder mission to Mars could be followed by other landings. A small lidar system included in a subsequent mission to look for water vapor in the atmosphere would be subject to severe constraints. It would have to weigh less than 2 lb and require less than 2 W of electrical power to operate. An inexpensive instrument of this size and efficiency could also find use in terrestrial applications including industrial process monitoring, pollution-monitoring lidar, and medical spectroscopy.
Although the system designed by Krainak is optimized to detect a water line, it could be adapted for other wavelengths. "Custom fiber gratings can be produced at relatively low cost--much less than $1000--even for single units" Krainak says.
Water-vapor lidar
For his laboratory system Krainak chose to detect a water line at 935.68 nm, which is strong and narrow--only a few picometers wide. This line was chosen rather than longer-wavelength ones so that the system could use a commercially available solid-state photon-counting silicon detector, which is limited to wavelengths shorter than 950 nm.
The system used a 938-nm Fabry-Perot diode laser (Sensors Unlimited/ David Sarnoff Research Center; Princeton, NJ) and a 3M Specialty Optical Fibers (West Haven, CT) fiber grating written to reflect about 7% of incoming light at 935 nm (see Fig. 1 on p. 66). The 35-mW laser was not antireflection-coated and was not single-mode. The fiber output was about 8 mW, although the researcher says the coupling could be done more efficiently.
"When light from the diode laser is coupled into the fiber grating," explains Krainak, "the light reflected from the grating `pulls` the diode-laser wavelength to the 935-nm fiber-grating wavelength and greatly reduces the optical spectral width of the laser." Fiber gratings have been demonstrated with tuning ranges of 45 nm. In this system, a heater placed on the fiber grating allowed coarse tuning of 10 pm/°C.
Narrowband operation
Once the wavelength was near the desired target, real-time continuous-wavelength scanning was achieved by varying the drive current to the laser--a sawtooth-shaped electrical waveform was applied to modulate the current from 20 to 60 mA. Krainak says, "At a fixed fiber-grating temperature and a fixed diode-laser temperature, there is a one-to-one correspondence between diode-laser bias-current values and laser wavelength." To ensure narrowband operation, the modulation rate was limited to about 1 Hz. The resolution of this system was 20 pm.
The system output propagated across a 16-m path through laboratory air and was collected by a PIN photodiode connected to a digital oscilloscope (see Fig. 2). Because the goal is to use the fiber spectrometer for a lidar system with a range of several kilometers, the output should be in short pulses and at powers higher than the 8 mW demonstrated.
Both are provided by integrating a 3-A pulsed current driver with a flared semiconductor amplifier and connecting them--after an optical isolator--to the output of the fiber-grating/seed-laser system in a master oscillator/ power amplifier configuration. This arrangement provided 2-µs pulses with 0.5-W peak power.
The bandwidth of the output is limited by several factors, including the bandpass of the fiber grating. Also, "one of the factors that determines the optical spectral width of the spectrometer light output," reports Krainak, "is the optical path distance between the diode-laser source and the fiber grating." By minimizing this distance and operating at a low current, the device provided single-frequency output with a resolution of less than 1 pm.
Fiber Fabry-Perot etalons developed by Bill Morey and others at 3M could also be used to create narrow-passband filters.1 "Folks who can`t afford to develo¥a specific wavelength source have a way" of adapting available technology using this system, says Krainak.
YVONNE CARTS-POWELL is a science writer based in Belmont, MA.
REFERENCE
1. W. W. Morey et al., "Fiber Fabry-Perot interferometer using side exposed fiber Bragg gratings" in Optical Fiber Communication Vol. 5, OSA Technical Digest 1992, paper WA2.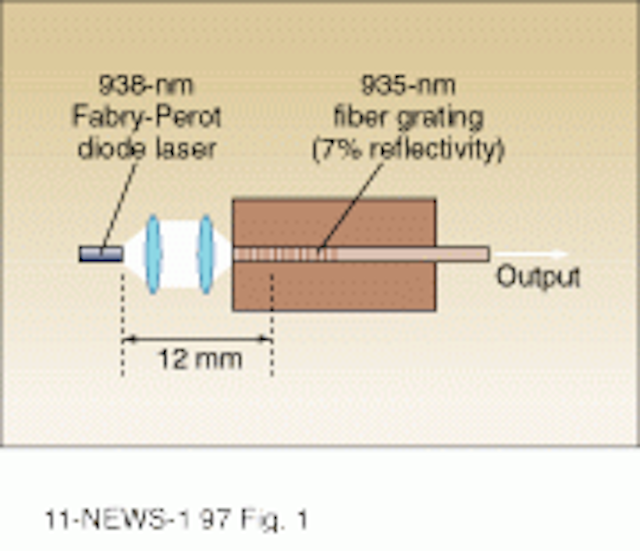 Click here to enlarge image
FIGURE 1. Active spectrometer uses a temperature-tunable fiber grating with 7% reflectivity at the desired wavelength of 935 nm. The light source is a commercial InGaAs Fabry-Perot diode laser with multiple longitudinal modes and room-temperature wavelength of 938 nm. Temperature tuning of the grating provides coarse tuning of the system output, while diode-laser current modulation allows wavelength scanning across the 45-nm passband of the fiber grating.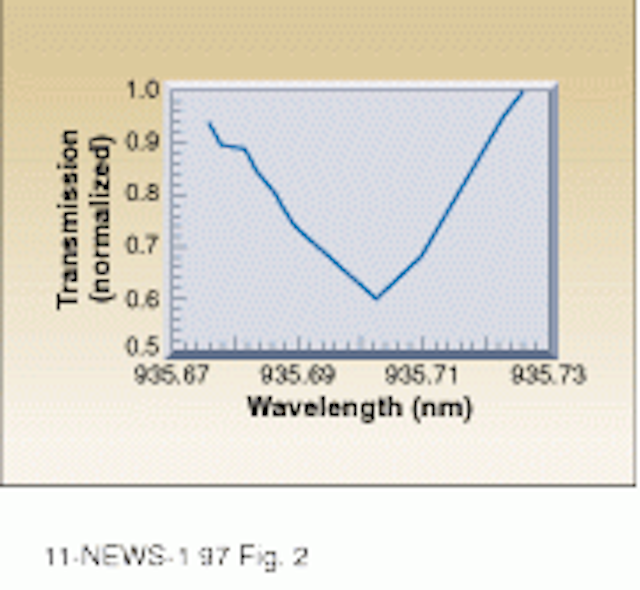 Click here to enlarge image
FIGURE 2. Water-vapor absorption spectrum is obtained using the diode-laser and fiber-grating system operating over a 16-m atmospheric path and is then detected by a silicon photo diode. This spectrum agrees with HITRAN and other published water-vapor absorption data.