Attack on science? DOE closing Rochester's LLE; NSF closing overseas offices
These closures by the US DOE and NSF could be could be further evidence of the feared attack on science.
Feb 26th, 2018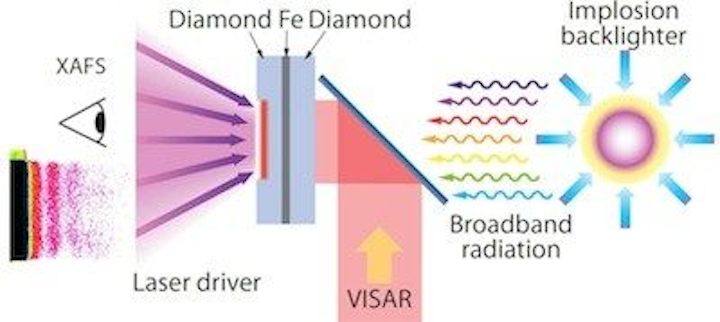 IMAGE: From a 2013 Laser Focus World article on the University of Rochester's Laboratory of Laser Energetics (LLE), the heart of the experimental setup on the LLE's OMEGA laser is iron (Fe) sandwiched between diamond. In one experiment, the LLE team achieved a record high pressure for solid iron by multi-shock compression through X-ray absorption fine structure (XAFS) measurements. Today, the LLE facility is in danger of closing. (Image credit: LLE)
Described in 2013 by Laser Focus World senior editor John Wallace as "the 'go to' laser", the OMEGA laser at the University of Rochester's Laboratory of Laser Energetics (LLE) is in peril. The US Department of Energy (DOE) has proposed a gradual shutdown of the LLE facility--a facility at the center of the region's research and commercial interests in energy and optics.
In a summary document of a 2019 departmental budget request, the DOE's National Nuclear Security Administration proposes "a three-year ramp-down in NNSA support for the University of Rochester's Laboratory for Laser Energetics, including the aged Omega Laser Facility." The UR lab currently gets about $70 million a year from NNSA, representing the bulk of its funding.
It may be a coincidence, but this closure and others described below from the National Science Foundation (NSF), could be further evidence of the feared attack on science by the current Trump administration. In our 2018 Lasers & Photonics Annual Review and Forecast, we wrote, "Unfortunately, in the administration's 2018 budget proposal (still being debated in Congress as of this writing), most agencies that support scientific R&D would see double-digit declines in their budgets--a scenario that prompted the National Photonics Initiative and The Optical Society (OSA) to express concern over the potential impact of these cuts on current and future science advancements."
Also of concern is this following statement issued by Rebecca Keiser, head of the Office of International Science & Engineering (OISE) at the NSF:
NSF is changing to a new overseas presence and updating our approach as to how we support international scientific collaboration. To ensure we are aware of, and have access to, the best minds and facilities, the foundation will transition our international engagement to a new model that allows us to expand our outreach and cooperation around the globe. The new approach will deploy NSF experts for short-term expeditions to selected areas to explore opportunities for collaboration.
We seek to improve cooperation by increasing outreach to our foreign counterparts instead of relying on a small number of static offices with a limited number of employees. The resources for this revised approach will be gained from the closure of our three overseas offices (these offices are located in Beijing, Brussels, and Tokyo). The closures will take place by summer 2018.
These offices have been integral to our successful collaborations in the past. However, the impact of having physical offices has changed as the world has changed. NSF's decision to reallocate personnel from the three overseas offices is an opportunity to modernize and broaden our international collaboration. We look forward to continued cooperation with our partners in China, Japan, the European Union, and elsewhere, and look forward to the new partners we will be able to gain through this strategic transition.
Laser Focus World welcomes additional information on the US governmental impact to the photonics industry; please email gailo@pennwell.com.
SOURCE: Democrat & Chronicle; https://www.democratandchronicle.com/story/news/2018/02/19/lle-laser-lab-rochester-closed-budget-energy/350991002/ and NSF; https://www.nsf.gov/news/news_summ.jsp?cntn_id=244589&WT.mc_id=USNSF_51&WT.mc_ev=click