Quantum technology research bills emerging in U.S. Congress
Both houses of Congress are seeing bills introduced to fund very large investments in quantum technologies
Jun 13th, 2018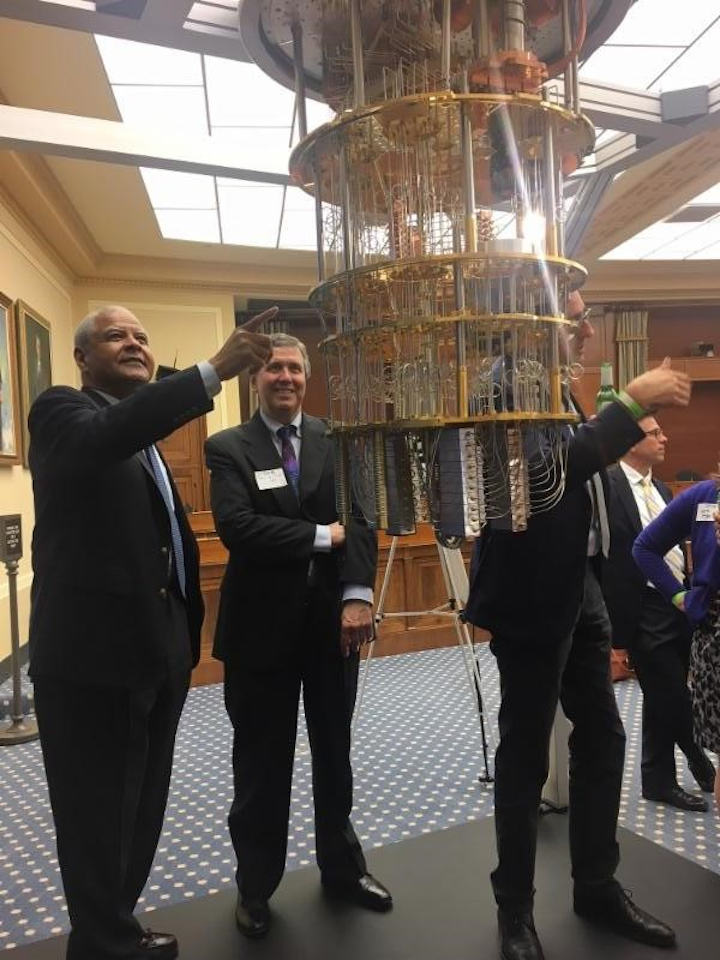 IMAGE. Edward White, Chair of the NPI, and Kent Rochford, CEO of SPIE, with a quantum computer on Capitol Hill. (Courtesy NPI)
Both houses of Congress are seeing bills introduced to fund very large investments in quantum technologies. The Senate bill, introduced on June 7, by Kamala Harris (D-CA), is titled the Quantum Computing Research Act, and would create a central coordination and research entity to support the development of quantum information science (QIS). This introduction follows the release of the FY18 National Defense Authorization Act, which directs the Secretary of Defense to create a quantum research program.
The Quantum Computing Research Act would establish the Office of Naval Research and the Army Research Lab, the Office of Science and Technology Policy, and members of a National Quantum Initiative as the head of an East/West Quantum Consortium of Partner Universities and Companies, to coordinate and support their efforts through grant funding.
Meanwhile, the U.S. House of Representatives Committee on Science, Space, and Technology is preparing to introduce the National Quantum Initiative Act of 2018, which will be formally introduced by Committee Chairman Lamar Smith (R-TX) as early as next week and considered by the House Science Committee the week of June 25.
The National Photonics Initiative (NPI) has been actively working with lawmakers to lay groundwork for this legislation since 2017. Last year, at the request of the Science Committee, the NPI created a white paper entitled A Call for a National Quantum Initiative. The white paper explored how and why it is necessary to create a new information infrastructure using quantum technology.
In October 2017, Chris Monroe, chief scientist and founder of IonQ, and professor of physics at the University of Maryland, touted the potential benefits of quantum technology in testimony before the Committee given on behalf the NPI.
Related: Proposed National Quantum Initiative is subject of U.S. House Committee hearing
In April 2018, the NPI unveiled the National Quantum Initiative (NQI) Action Plan and presented it to lawmakers during the annual NPI Capitol Hill Day that same month.
For more reporting on current agency funding and the White House view, see this article from the American Institute of Physics: Science Committee Seeks to Launch a National Quantum Initiative
Source: NPI