NPI volunteers meet with congressional offices to support investment in photonics
Nearly 50 volunteers participated in the NPI Congressional Visits Day by visiting about 80 offices of representatives and senators from nearly two dozen states.

May 2nd, 2017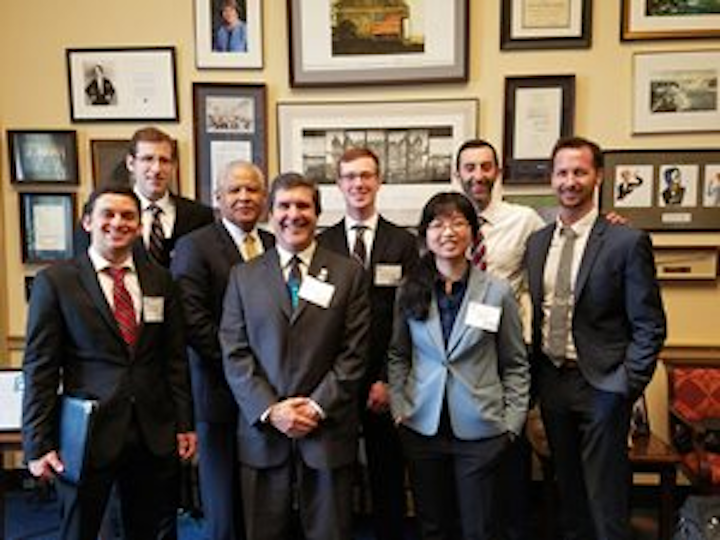 Image. New York team meeting with Liam Fitzsimmons and Kenneth Kort, staff for Rep. Louise Slaughter (D-NY). Courtesy NPI.
Nearly 50 volunteers participated in the National Photonics Initiative (NPI) Congressional Visits Day by visiting about 80 offices of representatives and senators from nearly two dozen states and the District of Columbia.The meetings were part of the Science-Engineering-Technology Working Group Congressional Visits Day, which saw hundreds of scientists, engineers, industry leaders and students meet with elected officials and their staffs to discuss science policy and federal investments in research and development.
"Offices in both the Senate and the House of Representatives were very receptive to our message of support for government funding for science and technology despite the most recent budget proposal from the White House," said Jason Mulliner, chair of the SPIE Engineering, Science, and Technology Policy committee. "I also saw enthusiasm towards supporting initiatives that would provide educational opportunities to ensure that our workforce is prepared for the technical jobs of both the present and future."
Congressional Visits Day "is always an invigorating experience," said SPIE Board of Directors member Christina Willis. "I was very impressed with the extensive training that both the NPI and the AAAS (American Association for the Advancement of Science) put together for participants. The reception my team had from the Congressional offices we visited was very welcoming, and it was clear that progress is being made toward creating greater awareness of optic and photonics."
Volunteers urged opposition to proposed Fiscal Year 2018 science R&D cuts, and support for strong investments in science R&D programs. In particular, they urged support for:

• The Department of Energy Office of Science, the nation's largest funder of research in the physical sciences and a dominant player in underwriting engineering, mathematics and computer research.

• The National Institutes of Health, the lead agency for cancer research and the BRAIN Initiative, which is authorized to fund increases over the next decade through the recently enacted 21st Century Cures Act.
• The National Institute of Standards and Technology, which is the lead agency for two key manufacturing programs, the Manufacturing Extension Partnership Program (MEP) and National Network for Manufacturing Innovation (NNMI).
• The National Science Foundation, a key funder of optics and photonics research.
• The Department of Defense Science and Technology Program, which plays a direct role in protecting and equipping the U.S. armed forces.
Members also advocated for the reauthorization of the Carl D. Perkins Career and Technical Education Act and outlined the critical role optics and photonics play in creating a safe public infrastructure. The volunteers also shared current research projects, and drew attention to the relationship between federal R&D funding and job creation in Congressional Districts.
Matthew Weed, Director of R&D, Luminar, and Chair, Public Policy Committee of OSA, noted, "At a time when it's easy to become disillusioned with government, our community has rallied with increased energy because we know our message of progress is important.

Those who want to get involved in their communities may want to attend local meetings hosted by legislators, or to invite a legislator to visit their companies or labs. A tool kit for hosting a visit is available on the NPI website: www.lightourfuture.org.
Image: As part of the activities, some CVD participants got to learn about the Congressional Fellowship program from the 2015-2016 OSA/SPIE Congressional Fellow Jennifer Brookes. Courtesy NPI.