Olympus donates 50 microscopes to Smithsonian Q?rius education center
Center Valley, PA--Olympus is supporting the 10,000 square-foot Q?rius (pronounced 'curious') experiential learning center at the Smithsonian with a donation of dozens of microscopes and imaging systems.
Dec 12th, 2013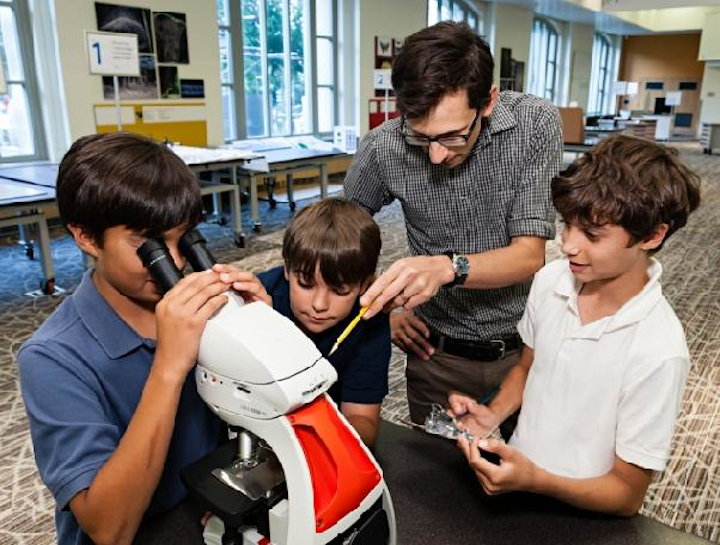 IMAGE: The Olympus donation of 50 microscopes to the Smithsonian will help quench the public's curiosity via the new Smithsonian Q?rius education center. (Image credit: James Di Loreto, Smithsonian)
Center Valley, PA--Imaging solutions company Olympus is partnering with the Smithsonian to create Q?rius(pronounced 'curious'), a new hub of scientific activity and education based at the Smithsonian's National Museum of Natural History (NMNH) in Washington, DC. Olympus is supporting the 10,000 square-foot Q?rius experiential learning center with a donation of dozens of microscopes and imaging systems that will enable museum visitors, along with remote participants, to access more than 6000 bones, minerals, and fossils in the NMNH's collection and engage in active, ongoing scientific inquiry.
Q?rius is a first-of-its-kind interactive and experimental environment. Through involvement with scientists and interactions with thousands of authentic objects, visitors will experience how science is relevant to them and how they can develop the skills to become the scientists of tomorrow. Q?rius is designed so that students and other visitors will contribute to the world's body of scientific knowledge and participate in investigating actual research questions by working with actual research objects. A key part of the process is that students, with help from Smithsonian scientists, will use professional-level microscopes and other instruments to probe and study specimens that get them engaged in and excited about the scientific process.
Olympus is contributing significantly by the donation of more than 50 fully loaded, professional scientific microscope imaging systems along with a variety of cameras, monitors, PCs, stands, software and more. As part of its donation, Olympus is providing a DSX100 opto-digital imaging system, a free-angle wide-zoom microscope that combines cutting-edge optical performance with the operational convenience of a smartphone or tablet. The DSX100 will capture detailed 3D images of specimens for archiving and online access, enabling people to participate in aspects of the Q?rius experience from anywhere in the world.
Other key instruments donated include a comprehensive BX63 life science research microscope system equipped with fluorescence and differential interference contrast illumination optics and an advanced research digital camera; a BX53 life science research microscope configured for polarized light microscopy; several BX43 upright compound teaching microscopes, each equipped with five viewing heads for teaching and group observation; and dozens of stereo and dissecting microscopes set up throughout the Q?rius space for use by visitors and school groups. As an added benefit, users will be coached and mentored in using the equipment by Smithsonian scientists and trained educator-volunteers. Along with hardware and software, Olympus is providing extensive staff time for training and support.
"It is an honor to be part of the vital Q?rius program. We are proud to help members of the public participate in the scientific process in collaboration with The Smithsonian, and, through their experience, be inspired to support scientific research and to pursue careers in science," said Hidenao Tsuchiya, president, Scientific Equipment Group, Olympus Corporation of the Americas. "Olympus has roots in innovation, healthcare and service to humanity that go back nearly a century. Today, supporting science education is one of our top corporate priorities, and we are a natural fit with the goals and challenges of Q?rius."
Q?rius, located on the ground floor of the museum at the north entrance on Constitution Avenue NW, will open to the public on December 12. Olympus equipment has already arrived at the Museum and the full complement of instruments will be in use by the end of December.
SOURCE: Olympus; http://www.olympusamerica.com/corporate/corp_presscenter_headline.asp?pressNo=983 and the Smithsonian; http://newsdesk.si.edu/releases/smithsonian-opens-new-state-art-learning-center-teens