Rochester's AIM Photonics Institute gets off to a slow start
Many of the promises made about jobs and funding for Rochester's photonics hub have yet to materialize.
Jul 26th, 2016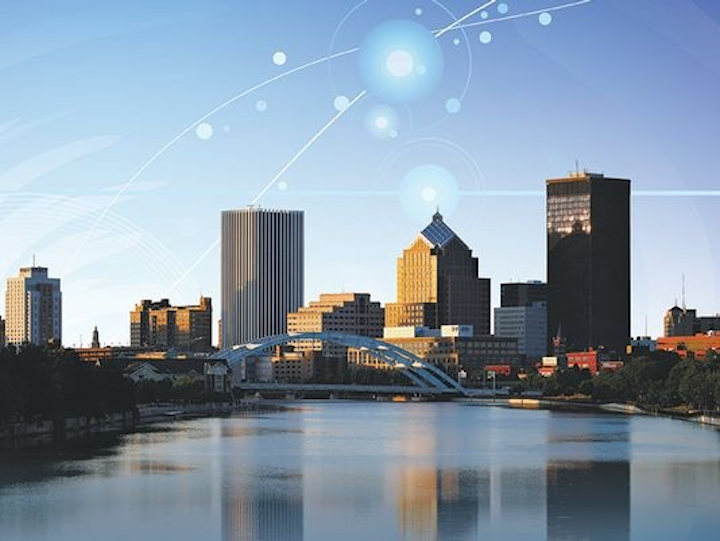 IMAGE:A photo illustration shows downtown Rochester, NY--future home of AIM Photonics. (Image credit: Rochester Democrat & Chronicle/photo by Carlos Ortiz, illustration by Dana Stewart)
In July 2016, Rochester, NY was selected as the hub for a major US photonics initiative. Today, the Rochester Democrat & Chronicle reports that while enthusiasm is still high, many of the promises made about jobs and funding have yet to materialize. Here is an excerpt of the full story:
Thousands of jobs and millions of dollars in investment. That was the promise last July when Vice President Joe Biden joined Gov. Andrew Cuomo and other dignitaries to announce Rochester had been selected as a national photonics hub.
One year later, officials claim to have created 175 direct jobs, both with the institute and company hires--though exactly where, including what number are in Monroe County, was not provided. The millions of dollars have yet to arrive.
Squabbles over the headquarters location settled on Legacy Tower, but the penthouse office in the former Bausch + Lomb high-rise remains empty. There's consensus on a key intellectual property rights agreement, a plan for initial equipment to be ordered, and a $106 million funding request working its way through state approvals. But there is yet no decision on where the equipment will go, and a developing process to have a person or persons possibly from outside the area, certainly independent of what has become an intense local lobbying effort, decide its placement.
"Year one, it's a bit of an oversimplification, but it was a year of planning. Now we're in a year of action," said John Maggiore, a Cuomo aide and chairman of the New York State Photonics Board, a group comprised of local leaders who recommend how to spend state money on the project.
With the photonics board in place that's working in conjunction with the Department of Defense, state officials expressed optimism that the photonics center will indeed be transformative for Rochester.
On Thursday, the state approved $78 million of a $106 million request to purchase equipment for what is being called the TAP (testing, assembly and packaging) facility. Next, the SUNY Polytechnic Institute based in Albany plans to send out requests for proposals through its procurement division seeking companies to build the high-tech equipment.
A decision on where to locate the facility should be made in late fall, officials said. The deadline to open it is July 2017.
"I would say Rochester will not see any influx of jobs emanating from this of any consequence much before very late 2017, early 2018," said Greater Rochester Chamber of Commerce President Robert Duffy, who chairs the AIM Photonics Leadership Council, the top decision-making board for the photonics center.
Even then, the jobs generated by a packaging facility will not be on the scale of thousands, an estimate that presumably included indirect jobs created by supply chain or other supporting businesses. The tally of 175 direct jobs created comes from SUNY Poly spokesman Jerry Gretzinger, who said in an email Friday those could be found at "various university and company sites." The lion's share of an initial 800 jobs--"phase one of the 5,000 or so jobs that were projected," he said--promise to be in Rochester once the TAP facility opens.
Duffy and others involved say the effort is on track.
Read the complete story here.
SOURCE: Rochester Democrat & Chronicle; http://www.democratandchronicle.com/story/news/2016/07/23/rochester-photonics-center-anniversary-progress-report/87308470/