Day of Photonics encourages industry wide participation
DAY OF PHOTONICS is a biennial event that promotes "photonics" towards the general public.
Jun 3rd, 2016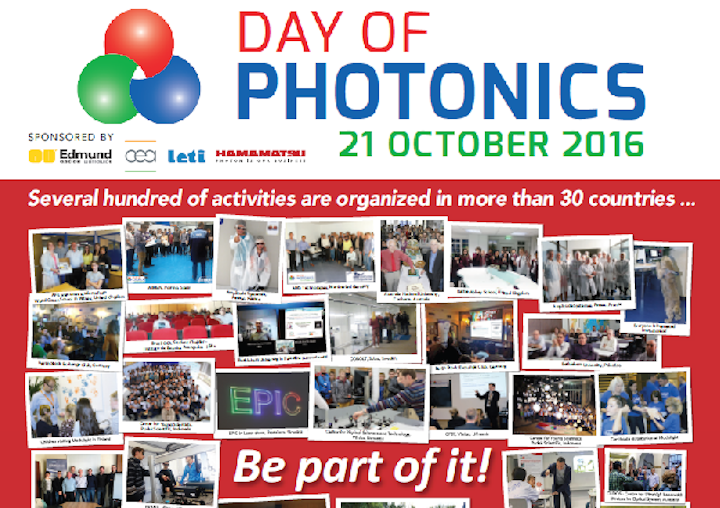 IMAGE: EPIC is managing the 2016 Day of Photonics event to promote "photonics" to the general public. (Image credit: EPIC)
DAY OF PHOTONICS is a biennial event held every two years that promotes "photonics" towards the general public. Companies, research organizations, and organizations involved in photonics reach out to their communities to raise awareness about what is photonics and why it is important, and promote the role of their organization in the photonics ecosystem and value chain. View pictures from the 2014 DAY OF PHOTONICS event here.
RELATED ARTICLE: Reaching a wider world with photonics education
DAY OF PHOTONICS is managed by EPIC, a not-for-profit photonics industry association composed of 250 members across 28 countries, and governed by its Board of Directors. Three sponsorship levels are available: 1000 Euro (Bronze); 2000 Euro (Silver); and 3000 Euro (Gold).
Most events are on a small scale organized within the company (open day, family day), but flagship events were various partners collaborate to organize a bigger event are strongly encouraged. Photonics is a Key Enabling Technology, together let's make sure the world understands the significance and relevance of the photonics industry! Activities are organized in more than 30 countries around the world and encompass all kinds of demonstrations on the impact of photonics on our day-to-day life. Photonics technologies include: LED lighting, Photovoltaic solar energy, Photonics Integrated Circuits, Optical components, Lasers, Sensors, Imaging, Displays, Projectors, Optic fiber, and other photonic related technologies which find applications in health, security, agriculture, food, communication, and transportation. The activities are self-organized on a voluntary basis, in all regions of the world.
"I am delighted to see actions taking place as a follow-up to the International Year of Light. The initiative of EPIC to continue promoting a global industry-wide DAY OF PHOTONICS is not only exciting and interesting on its own but also feeds-in perfectly to our aspirations to continue demonstrating innovation in light technology in a tangible manner, and promote public-industry engagement," saidJohn Dudley, Chairman of the International Year of Light Steering Committee, in one of several testimonials ahead of the event.
SOURCE: EPIC; http://day-of-photonics.org/day-of-photonics/