UTA professor wins NSF grant to engineer nanoscale amplifiers and lasers
A UTA researcher was awarded a grant to explore resonance effects that could lead to better photonic integrated circuits.
Jun 14th, 2016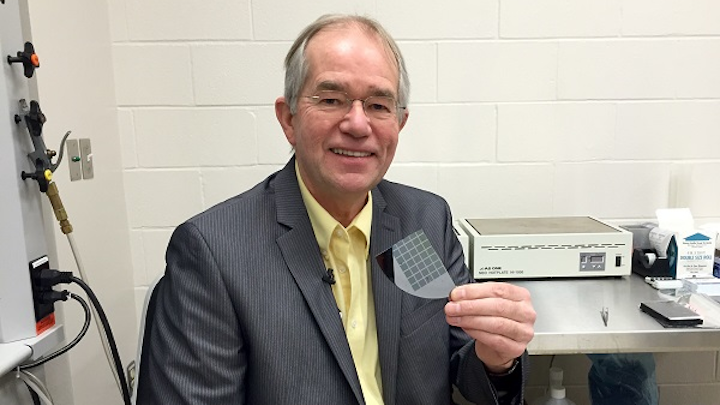 IMAGE: Robert Magnusson, UTA's Texas Instruments Distinguished University Chair in Nanoelectronics and professor of electrical engineering, was awarded a NSF grant to study resonance effects for photonic integrated circuits. (Image credit: University of Texas at Arlington)
A University of Texas at Arlington (UTA) researcher will explore the possibility of using a novel optical resonance effect in nanostructured silicon films to generate light, which could lead to more efficient and compact integrated photonic-electric circuits. The new technology could greatly enhance transmission speeds by easing the limitations inherent in current electrical technology, making cameras and infrared technology less expensive. The technology also could improve sensing instruments, researchers said.
RELATED ARTICLE: Fin optical waveguide will enable co-integration of photonics with electronics
Robert Magnusson, UTA's Texas Instruments Distinguished University Chair in Nanoelectronics and professor of electrical engineering, has received a three-year, $370,000 National Science Foundation grant to create the engineered nanoscale amplifiers and lasers. The optical resonance effect induces interaction of light with an optical structure. Magnusson designs the structure in a way that forces this interaction to occur.
Silicon photonics is compatible with modern electronics technology on which everyday integrated circuit chips for computers and communications are based. It is important to be able to generate light in silicon because the next generation of electrical systems will be integrated with silicon photonics, and light sources are necessary for that technology to work, Magnusson explained. "Modern electronics and photonics technologies are merging, enabling more efficient, compact chips where the advantages of each technology are in play," Magnusson said. "Thus, signals may be transmitted by light inside and between chips rather than through wires."
Jonathan Bredow, chair of the UTA Department of Electrical Engineering, said Magnusson's research, as well as that of others across the University, exemplifies the groundbreaking work with global environmental impact under way at UTA under the Strategic Plan 2020: Bold Solutions | Global Impact.
Magnusson's findings will allow the development of new types of lasers and amplifiers that can be applied to integrated photonics systems that could better detect incoming signals carried by light, such as those in Internet data transmission, and that could increase transmission and processing rates in optical communications.
He will use a fundamental phenomenon in silicon called the Raman effect that causes the re-emission of photons from the silicon when light is shined on it. Those photons are emitted at shorter wavelengths and longer wavelengths, the latter of which is more effective.
Magnusson has worked in photonics throughout his career and pioneered a host of device technologies, many of which are patented. The current project will allow him to use his novel photonic resonance effects to bring the excitation and emission wavelengths into resonance simultaneously to realize a new Raman laser technology platform.
He leads UT Arlington's Nanophotonics Device Group, which pursues theoretical and experimental research in periodic nanostructures, nanolithography, nanophotonics, nanoelectronics, nanoplasmonics, and optical bio- and chemical sensors. His research established new transformative biosensor platform technology that is in commercial use by Resonant Sensors (Arlington, TX), a company he co-founded. Magnusson has garnered more than $10 million in research funding and endowments for UTA since becoming the Texas Instruments Distinguished University Chair in Nanoelectronics in 2008, published nearly 450 journal and conference papers and secured 30 issued patents and pending patents.
SOURCE: UTA; http://www.uta.edu/news/releases/2016/06/magnusson-nsf-Si-light.php